Explore the Possibilities
and Advance with Us.
SEARCH CAREER OPPORTUNITIES
Associate Federal Claiming Reimbursement Analyst - REMOTE
Job Number
: 2023-43546
Category:
Administrative Professional
Location
: Shrewsbury, MA
Shift:
Day
Exempt/Non-Exempt:
Exempt
Business Unit:
ForHealth Consulting
Department:
ForHealth Consulting - Federal Claiming - W401411
Job Type:
Full-Time
Salary Grade:
40
Union Code:
Non Union Position -W60- Non Unit Professional
Num. Openings
: 1
Post Date
: Aug. 10, 2023
GENERAL SUMMARY OF POSITION: 
The Payment Rate & Administrative Cost Reimbursement Unit (PRACRU) within the Center for Health Care Financing oversees administrative claiming, facility cost reporting and community service rate development on behalf of several Commonwealth of Massachusetts agencies.   The federal reports are mandated by the Centers for Medicare & Medicaid Services (CMS) and failure to submit results in suspension of Medicare and Medicaid payments to the Commonwealth. The Medicaid reports are mandated by state regulation. 
Under the general supervision of the Manager, the Associate Federal Claiming Reimbursement Analyst  works independently with state agency staff and state information systems to gather, analyze and prepare information for inclusion on yearly cost reports and rate petitions, which will have final review by senior staff person before being submitted on behalf of facilities to appropriate regulatory authorities.
MAJOR RESPONSIBILITIES:
Compile, review and analyze program cost and service statistics.
Analyze the compiled data to identify and resolve any discrepancies.
Complete comprehensive comparison and reconciliation of the federal and state cost reports.
Develop and maintain spreadsheets, databases and systems that will be used to track all necessary information from each facility for yearly Medicare and Medicaid Cost Reporting, and Community Rate Development.
Respond to inquiries from Facility and Agency Staff, providing status updates to manager.
Compile, prepare and submit cost reports for by senior staff person.
Support and assist Administrative Claiming by reviewing UMASS accounting information for accuracy and completeness.
Performs work independently and as a team member.
Participate and/or implement Continuous Quality Improvement initiatives.
Performs additional duties as required or requested.
REQUIRED QUALIFICATIONS:
Bachelors degree in Business Administration with a concentration in Accounting or Finance; or equivalent.
Demonstrated skills in computer based tools including spreadsheets, database, presentation, and word processing software.
Knowledge of accounting principles.
Demonstrated organizational, analytical and interpersonal skills.
Strong oral and written communication skills.
PREFERRED QUALIFICATIONS:
Ability to extract, compile and analyze data from state information systems such as MMARS, Meditech and COGNOS.
Advanced knowledge and ability in using Microsoft Excel and Access software.
Ability to read and interpret state and federal regulations, as related to their assignments.
Check Out Our Advancing Careers
HR Blog
Each year UMass Chan Medical School comes together to demonstrate care and compassion. Learn more about the UMass Chan Cares campaign.
---
UMass Chan and Partners launch New England Nursing Clinical Faculty and Preceptor Academy Goal of new initiative is to 'build capacity' for nurse preceptors to address nursing shortage. Learn more about the initiative.
---
Named to Forbes' list of Best Employers
in Massachusetts.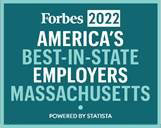 Named a U.S. News & World Report
"2022 BEST MEDICAL GRAD SCHOOL"
for Primary Care and Research