Explore the Possibilities
and Advance with Us.
SEARCH CAREER OPPORTUNITIES
Job Number: 2023-44818 - 11/08/2023
Department: School - Medicine - W710000
Location: Worcester, MA
POSITION SUMMARY:The Nonhuman Primate Reagent Resource (NHPRR) under Diogo Magnani of the UMass Chan Medical School is looking for a full-time team manager to support the mission and establishment of a new preclinical biomanufacturing production core.  NHPRR is a vibrant research and product develo…
Featured Hiring Areas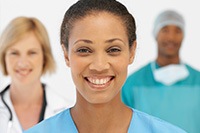 Healthcare
Check Out Our Advancing Careers
HR Blog
---
UMass Chan Medical School was among 23 companies that stood out as 2023 "DEI champions," according to The Boston Globe.
---
Named a U.S. News & World Report
"2023 BEST MEDICAL GRAD SCHOOL"
for Primary Care and Research