Explore the Possibilities
and Advance with Us.
SEARCH CAREER OPPORTUNITIES
Job Number: 2020-35376 - 08/31/2021
Department: School - Molecular Cell & Cancer Biology - W495000
Location: Worcester, MA
A postdoctoral position is available in the Benanti Lab at the University of Massachusetts Medical School to study the molecular mechanisms that regulate cell growth and division. The Benanti Lab is located in Department of Molecular, Cell and Cancer Biology where postdocs benefit from a modern o...
Featured Hiring Areas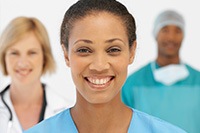 Healthcare
Check Out Our Advancing Careers
HR Blog
Joining our Talent Community will allow you to stay connected with UMass Chan Medical School and receive alerts with new job opportunities that match your interests. Join now and receive relevant communications and updates from our organization. Click here and join the UMass Chan Medical School Talent Community Now
---
Receive the latest news about Careers at UMass Chan Medical School by following us on Twitter.
---
UMass Chan Medical School Core Competencies demonstrating the capabilities that are central across all UMass Chan positions that collectively contribute to UMass Chan Medical School success.
---
Named a U.S. News & World Report
"2022 BEST MEDICAL GRAD SCHOOL"
for Primary Care and Research