Explore the Possibilities
and Advance with Us.
SEARCH CAREER OPPORTUNITIES
Research Specialist - Metabolomics
Job Number
: 2023-44112
Category:
Research
Location
: Worcester, MA
Shift:
Day
Exempt/Non-Exempt:
Exempt
Business Unit:
UMass Chan Medical School
Department:
School - Molecular Medicine - W400900
Job Type:
Full-Time
Salary Grade:
46
Union Code:
Non Union Position -W60- Non Unit Professional
Num. Openings
: 1
Post Date
: July 24, 2023
POSITION SUMMARY: 
Under the direction of the Principal Investigator or designee, the Research Specialist conducts and evaluates scientific research in a laboratory, clinic, and/or teaching environment (hereafter referred to as "laboratory").  Employees in this position understand the context and implications of the research in order to apply and interpret theoretical knowledge necessary to conduct research in one or more scientific disciplines. The range of duties includes, but is not limited to project planning, data collection and analysis, project management, preparing reports, and communication and instruction.  Work may include the training and supervision of staff, students, and others in performing specific techniques/experiments
The Program in Molecular Medicine Metabolomics Core Facility is seeking an enthusiastic and motivated individual to support metabolism-based research projects in a variety of experimental models using high-resolution, accurate-mass, liquid-chromatography mass-spectrometry. You will collaborate with researchers in developing and applying LC/MS-based metabolomics/ lipidomic experiments to advance their research projects. You will use discretion in prioritizing and organizing workflows. You will be expected to work independently and as part of a team to ensure high-quality data acquisition in a state-of-the-art laboratory.
ESSENTIAL FUNCTIONS:
Conduct various complex tests, experiments and/or procedures following protocols of assigned research projects
Apply and interpret theoretical knowledge necessary to conduct research in one or more scientific disciplines
Identify potential problems, recommend, and implement solutions, and collaborate in the development of new techniques
Monitor and collect data as required by research protocols
Maintain appropriate documentation of research results, as required by research protocols.
Search literature demonstrating an understanding of scientific, experimental and/or research theory to assist in the design of methods, procedures, and techniques
May configure, operate and/or maintain specialized equipment
May use software applications to assemble, manipulate, format and/or perform statistical analysis of data
May assist in writing grants, progress reports, and manuscripts
Prepare samples for metabolomics/ lipidomics experiments
Optimize extraction protocols
Perform LC/MS/MS experiments for targeted and untargeted metabolomics and lipidomics
Perform data analysis using software such as TraceFinder, Compound Discoverer and LipidSearch
Consult with researchers on experimental design and data interpretation
Produce reports and share them with collaborators
Participate in grant writing and manuscript preparation
Present data at group meetings
Operate, maintain, and troubleshoot a variety of mass spectrometers
Develop new metabolomics/ lipidomics methods and workflows when needed
Assist with general laboratory tasks as needed
Maintain detailed records and adhere to SOPs
Supervise and train new laboratory personnel and junior members of the laboratory
Performs other duties as assigned.
REQUIRED QUALIFICATIONS:
D. and 1 year of postdoctoral experience in analytical chemistry, (bio)chemistry or equivalent
7 years of research experience, including three years of experience in metabolomics
Familiarity with high-resolution mass spectrometers (e.g. Orbitraps)
Experience with liquid-chromatography
Willingness to work in a collaborative environment with an outfacing customer service acumen
Recent bench work experience required
Ability to prepare research reports
Good verbal and written communication skills
Demonstrated ability to understanding scientific, experimental and or research theory
PREFERRED QUALIFICATIONS:
Experience with lipidomics strongly preferred
Experience with gas-chromatography
An understanding of the use of stable isotopes in tracing experiments
A broad knowledge of open-source, high-resolution, accurate-mass data analysis software
Experience in advanced data processing and analysis encouraged (use of Matlab, R, Python etc)
Familiarity with statistical methods used in larger cohort studies
Check Out Our Advancing Careers
HR Blog
Each year UMass Chan Medical School comes together to demonstrate care and compassion. Learn more about the UMass Chan Cares campaign.
---
UMass Chan and Partners launch New England Nursing Clinical Faculty and Preceptor Academy Goal of new initiative is to 'build capacity' for nurse preceptors to address nursing shortage. Learn more about the initiative.
---
Named to Forbes' list of Best Employers
in Massachusetts.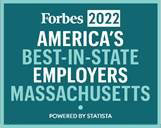 Named a U.S. News & World Report
"2022 BEST MEDICAL GRAD SCHOOL"
for Primary Care and Research