Explore the Possibilities
and Advance with Us.
SEARCH CAREER OPPORTUNITIES
Administrative Assistant I
Job Number
: 2023-43463
Category:
Administrative Support
Location
: Worcester, MA
Shift:
Day
Exempt/Non-Exempt:
Non Exempt
Business Unit:
UMass Chan Medical School
Department:
School - Continuing Care Units - W83302A
Job Type:
Full-Time
Salary Grade:
15
Union Code:
Union Position-W28-SHARE
Num. Openings
: 1
Post Date
: May 22, 2023
POSITION SUMMARY: 
Under the general supervision of the Manager/Department Head or designee, the Administrative Assistant I performs diversified and complex administrative duties.     
ESSENTIAL FUNCTIONS:
Prepare and/or update correspondence, memoranda, agendas, handouts, website updates, and reports, etc.
Type, edit, and proofread material
Respond to routine questions and answer routine correspondence
Greet visitors; ascertains their need and provide information
Maintain calendar(s)
Perform data entry and generate reports
Audit data entry
Arrange travel logistics and coordinate schedules. Completes travel advance and authorization forms.
Maintain travel records
Schedule or arrange for conferences, meetings, interviews, appointments, retreats, events, or similar activities
Submit voucher forms with appropriate receipts and information for reimbursement
Process and track documents such as invoices, payments and requisitions. Follow up on payments.  Reallocate purchases when necessary
Answer phones and screen calls. Take messages and relay information within scope of authority
Review, sort, distribute, and file a variety of material. Identify priority items and route accordingly
Order and maintain office and other department supplies
Open, review, distribute incoming mail. Identify priority mail and route accordingly Answer e-mails and respond to routine correspondence
Perform other duties as required.
REQUIRED QUALIFICATIONS:
HS Diploma or equivalent 
3-5 years of related experience
Proficient in Microsoft Office products and software
Possess the organizational, verbal, written and interpersonal skills necessary to interact effectively with all levels of personnel
Ability to prioritize and problem solve.
Looking for Meaningful, Rewarding, and Exciting Work? Join the team and help adolescents struggling to overcome the limitations of their mental illness.  
Consider the UMass Chan Medical Schools Adolescent Continuing Care Units (ACCU)
We value the compassion and commitment to patients of our team members and are happy to offer an incredible pension program to those who dedicate their career to our program. 
Pension payments are calculated based on the salary earned while at the ACCU.  Retirement benefits also include medical insurance for life, which is another big factor in our team members consideration of overall compensation. There is much more to the benefits of service here for those interested. You will be paid for creative and playful engagement with adolescents who battle mental health and trauma-related challenges. Over time, you will see the adolescents emerge at a much higher level of functioning, the gains that will change the course of their entire lives. You will be literally changing and saving lives while getting paid to do so.
Does this sound appealing?  Read on to see if we are a match for your career goals.
The University of Massachusetts T.H. Chan School of Medicine is an Equal Opportunity Employer.
PREFERRED QUALIFICATIONS:
Specialized secretarial training
HIPAA Privacy
Check Out Our Advancing Careers
HR Blog
Each year UMass Chan Medical School comes together to demonstrate care and compassion. Learn more about the UMass Chan Cares campaign.
---
UMass Chan and Partners launch New England Nursing Clinical Faculty and Preceptor Academy Goal of new initiative is to 'build capacity' for nurse preceptors to address nursing shortage. Learn more about the initiative.
---
Named to Forbes' list of Best Employers
in Massachusetts.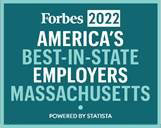 Named a U.S. News & World Report
"2022 BEST MEDICAL GRAD SCHOOL"
for Primary Care and Research