Explore the Possibilities
and Advance with Us.
SEARCH CAREER OPPORTUNITIES
Assistant Vice Chancellor, People Development & Wellness - Hybrid
Job Number
: 2023-43340
Category:
Management
Location
: Worcester, MA
Shift:
Day
Exempt/Non-Exempt:
Exempt
Business Unit:
UMass Chan Medical School
Department:
School - HR-Administration - W860000
Job Type:
Full-Time
Salary Grade:
S1
Union Code:
Non Union Position -W60- Non Unit Professional
Num. Openings
: 1
Post Date
: May 17, 2023
POSITION SUMMARY: 
UMass Chan Medical School, located in Worcester, MA seeks nominations and applications for the position of Assistant Vice Chancellor for People Development & Wellness.
Reporting to the Deputy Executive Vice Chancellor People Strategy Officer, the Assistant Vice Chancellor, People Development & Wellness serves as the head of Learning & Development for the campus, and provides leadership, supervision and direction to managers and staff in the L&D, Training, Learning Management System administration, and Wellness/EAP functions. The position is responsible for leading the strategy, design, implementation and continuous improvement of learning and development programs, as well as for the delivery of well-being and Employee Assistance services in alignment with UMass Chan organizational goals and evolving needs for virtual and in-person learning. This role is accountable for ensuring that programs and consulting services represent best practice, and are compliant with all applicable federal, state and UMass learning requirements. The incumbent serves as a key strategic member of the HR leadership team; inspiring, coaching and mentoring HR professionals and other members of the UMass Chan community with the goal of positioning UMass Chan as an employer-of-choice recognized for attracting and retaining talent and embracing diversity and inclusion as a primary building block of our culture.
ESSENTIAL FUNCTIONS:
HR Leadership – As a member of the Human Resources leadership team:
Collaborates with HR and UMass Chan leadership in the development of annual and long-range strategic plans with respect to learning and development and employee wellness.
Works collaboratively with UMass Chan campus academic, finance & administration leadership, other UMass campus HR leaders and external audit/review agencies as needed.
Ensures that all policies under areas managed follow state and federal guidelines as well as adhere to the mission and vision of UMass Chan.
Encourages and supports diverse views and approaches, creating an environment of professionalism, respect, tolerance, civility and acceptance toward all faculty, staff and customers;
Produces relevant program metrics for the areas managed; interprets the results and synthesizes into business-relevant summaries for UMass Chan leadership and other stakeholders.
Proposes budgets for the areas managed and monitors spending activities to assure budget goals are met.
Participates in HR effectiveness initiatives and the annual HR strategic/operational goals development process.
May be called on to plan and facilitate the HR strategic planning process.
Learning & Organizational Development & Training:
In addition to setting goals for and managing the daily activities of the learning & development team, this position has oversight for:
Providing strategic direction related to the delivery of professional, supervisory, management and leadership development programs across the UMass Chan campus by continually collecting information on learning needs and identifying critical competencies required for successful contribution to the institutions missions.
Identifying what programs exist (UMass Global, campus, school/department) to meet these needs, and where there are gaps that can be most effectively addressed with available resources through new and/or revised programming on the campus.
Developing and conducting analysis on the performance (ROI) of current learning programs; making recommendations for updating and evolving learning programs to meet the needs of campus stakeholders.
Leveraging resources, programs and learning systems currently available through the UMass Chan system and other offices (DIO, Management, etc.) to deliver targeted and cost-effective training, leadership, and professional development programs.
Developing annual course offerings to include marketing/communications plans, website changes, announcements, postings, and downloadable schedules.
Utilizing various learning methods, including live, blended learning, on-line and on-the-job learning to enhance the skills sets of campus staff and faculty.
Developing learning curricula, formulating learning outlines, preparing participants guides and handouts and facilitator guides (for custom content).
Training facilitators and trainers using best practice "train-the-trainer" approaches.
Providing department and guest facilitators with feedback and recommending changes to design and delivery. Ensuring that both in-person and on-line training programs are best-in-class in terms of content and delivery.
Leveraging technology to streamline logistical processes such as course registration through the LMS, attendance tracking and end-of-course evaluations to include:
Update of the L&D calendars and HR website with dates/times for courses
LMS setup for all new courses and sessions
Create and maintain attendance for Zoom and custom courses
Management of registrations, waitlists and withdrawal from all courses
Zoom setup for all online courses; room reservations and setup for all in-person classes
Management of L&D course calendar and logistics
Coordination of guest facilitators
Developing and maintaining an "inventory" of internal and external programs available, cross-referenced against critical UMass Chan competencies.
Developing and administering impact course evaluations using an accepted framework (such as Kirkpatrick) for any certification programs provided.
Coaching individual campus leaders, as time permits, on how to develop managers and leaders; providing advice and counsel on which programs to leverage (both internal and external).
Developing and delivering organizational development consulting services, such as climate/engagement surveys, career coaching, in-person strategic planning sessions, in-person group facilitation and teambuilding sessions.
Providing team and individual coaching assessments such as DISC, Gallup Strengths, Emotional Intelligence, MBTI and other accepted best-practice assessments.
Supporting other campus offices on the delivery of online and in-person compliance-related training programs on request.
Collaborating with HR, DIO and Communications leadership colleges on initiatives to increase high talent retention including succession planning, employee experience, engagement, new hire onboarding, assimilation and mentoring.
Using instruments and surveys to analyze the employee experience, engagement, and organization health, and developing and implementing appropriate OD interventions for organizational improvement.
Working in partnership with the Office of Communications on "best places to work" submissions, surveys and resultant action planning.
Ensuring compliance with legally-required on-line or in-person training programs; works with leaders to ensure employees complete required trainings.
Office of Well-Being:
In addition to setting goals for and managing the daily activities of the OWB team, this position has oversight for:
Ensuring a highly-qualified team of licensed mental health professionals and high-level wellness experts and staff deliver best practice counseling services to employees via the Employee Assistance Program (EAP), a work-based confidential program providing professional assessment, short-term solution focused counseling, information and referral to faculty and staff.
Ensuring management oversight of client relations, working with OWB leadership to manage and resolve complex problems, and ensuring that all OWB team members including department clinicians, staff and contractors are focused on improving the physical and mental health of employees and their families.
Working with OWB leadership and staff to evaluate programs and develop new programs as UMass Chan needs evolve and resources are available.
Ensuring that the OWB direct client care team is providing confidential and timely assessment services for employees with personal concerns; services are provided on a 24-hour on-call basis and include responsibility for evaluation, treatment compliance, and re-entry to the workforce of chemically dependent and/or mentally ill employees.
Ensuring the OWB team delivers effective management and supervisor training to equip them to identify and effectively manage troubled employees, behavioral health issues, ensure a Drug-Free Workplace, etc.
Overseeing the campus Wellness Program to support and strengthen the health and wellness of the UMass Chan workforce by providing diverse tools, resources and opportunities to employees.
Continually measuring the effectiveness of wellness and other programs under management on employee health.
Ensuring that the OWB team is consulted and involved in critical policy and procedure creation or changes regarding substance abuse, drug testing, domestic violence and organizational response to federal and state laws, including ADA, FMLA and violence in the workplace.
Performs other duties as assigned within the scope of the areas managed by this role.
REQUIRED QUALIFICATIONS:
A Bachelors degree is required; advanced degree in Human Resources Management, Organizational Development, Administration, psychology, mental/behavioral health, social work or related area is preferred.
Substantial progressive responsibility in the field of Human Resources with proven success in Learning and Organizational Development, HR management, Employee Wellness, and/or Employee Assistance within a large, matrixed organization.
Experience supervising professional-level staff in learning and organizational development.
Excellent leadership, management, analytical, communication and interpersonal skills.
Must be a diversity champion who is culturally aware and is able to work with and influence community members at all levels of the institution.
Results-oriented with demonstrated ability to self-motivate and to work independently.
Demonstrated ability working in a fast-paced environment maximizing the use of technology to drive efficiencies.
A strong customer and continuous improvement focus, including proactively seeking opportunities to develop and improve learning & development and employee wellness programs and operations within available resources.
Experience as a change agent possessing a strategic and systems mindset.
Must exercise good judgment and establish and maintain collaborative working relationships with all UMass Chan stakeholders.
Outstanding communicator, both in writing and verbally; excellent presentation skills.
Understanding of and experience in a complex organizational culture with multiple strategic business units.
High energy, collaborative leader who has subject matter expertise in both leadership, organizational development, career coaching, and employee assistance. A team player oriented to collaborative problem solving.
Strong, demonstrated skills in delivering training via Zoom (Meeting/Webinar), Canvas/TechSmith Relay (or similar system) and Microsoft Teams
Strong technical skills including ability to leverage online learning tools such as LinkedIn Learning, SkillSoft or similar tools.
PREFERRED QUALIFICATIONS:
HR Certification (PHR, SPHR)
Advanced degree in organizational development, HR or related field
Masters degree or higher in health and wellness with certification and/or licensure in mental health
Training Certification (ASTD CPLP or similar)
Certification in Coaching
Certification in assessments such as Extended DISC, Gallup Strengths, TKI Conflict Instruments, MBTI, 360 assessment, or other relevant tools.
Certification in Health and Wellness coaching
Certification as an Employee Assistance Professional
Experience supervising a team of employee assistance and wellness profesisonals
Experience supervising an internal or external Employee Assistance (EAP) function
CEA Certification
Experience in a wellness-related field (health education, public health, community health)
Experience with individual behavior change management, motivational interviewing and health coaching
Skilled in crisis intervention, constructive confrontation, and consultation
Experience managing a BIT (behavioral intervention team) in a higher Education environment
APPLICATIONS:
Review of candidates will begin immediately and continue until the position is filled. Application materials should include a letter describing interest in and qualifications for the position in relation to the attributes described above along with a résumé.
This position is on-site at the UMass Chan campus facility a minimum of three (3) days per week; there is the opportunity to work one or two days per week remotely, as approved.
All nominations and applications should be sent in confidence to: UMassChanHR_Development_Wellness@storbecksearch.com
#LI-AT1
Check Out Our Advancing Careers
HR Blog
Each year UMass Chan Medical School comes together to demonstrate care and compassion. Learn more about the UMass Chan Cares campaign.
---
UMass Chan and Partners launch New England Nursing Clinical Faculty and Preceptor Academy Goal of new initiative is to 'build capacity' for nurse preceptors to address nursing shortage. Learn more about the initiative.
---
Named to Forbes' list of Best Employers
in Massachusetts.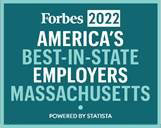 Named a U.S. News & World Report
"2022 BEST MEDICAL GRAD SCHOOL"
for Primary Care and Research