Explore the Possibilities
and Advance with Us.
SEARCH CAREER OPPORTUNITIES
Academic Personnel Specialist- Temporary
Job Number
: 2023-43337
Category:
Administrative Professional
Location
: Worcester, MA
Shift:
Day
Exempt/Non-Exempt:
Day
Business Unit:
UMass Chan Medical School
Department:
School - HR-Temprite Services - W860030
Job Type:
Temporary
Num. Openings
: 1
Post Date
: June 15, 2023
General Summary:
Under the direction of the Administrator or designee, the Academic Personnel Specialist is responsible for the administrative, computer and data management support of the Medical School's Personnel Action Committee, Faculty Council and Womens Faculty Committee. In addition, works closely with faculty chairs, academic administrators and others with regard to faculty hiring, appointments and promotions processes. This is a temporary Monday - Friday 40 hrs per week assignment.
MAJOR RESPONSIBILITIES:
Independently functions as Medical School resource addressing inquiries concerning procedure, paperwork and deadlines for all faculty personnel actions and interpreting academic personnel policy and governance documents.
Independently process faculty appointments and promotions in a timely manner upon approval of Executive Council.
Compose and prepare correspondence for the Vice Provost for Faculty Administration relating to all faculty appointments, promotions and other faculty personnel actions.
Generate reports using data from the faculty database and from other sources; present the findings in these reports to various groups within the institution.
Coordinate special projects for the Vice Provost such as five year departmental reviews and faculty exchange programs.
Function as support staff to the Personnel Action Committee. Schedule monthly meetings, develop agendas and prepare materials for meetings. Record recommendations of committees and follow up on assigned tasks.
Function as support staff to Faculty Council; provide detailed minutes of the proceedings and publish minutes as needed.
Work closely with the Women's Faculty Committee to review salary and promotion data and to organize special events.
Assist in the coordination of programming for new faculty orientations and workshops related to the academic promotions process.
Perform other duties as required.
REQUIRED QUALIFICATIONS:
Bachelor's degree, or equivalent experience
3 years of work-related experience
Ability to interpret University promotions and tenure policies and guidelines, and meet performance deadlines in a dynamic environment.
Experience handling complex, diverse and confidential matters. 
Demonstrated ability to work independently utilizing initiation and discretion.
Excellent oral and written interpersonal communication skins to interact with all levels of personnel, both internal and-external, particularly Senior Academic Administration including the Chancellor, Provost and Department and Division Chairs.
Demonstrated ability in preparing reports and performing analysis of data.
Strong computer application skills particularly with data bases, preferably PeopleSoft, and familiarity with related applications such as Query reporting, SQL and Crystal. Working knowledge of Microsoft Office programs including Excel, Word, NT System.
#LI-AT1
Check Out Our Advancing Careers
HR Blog
Each year UMass Chan Medical School comes together to demonstrate care and compassion. Learn more about the UMass Chan Cares campaign.
---
UMass Chan and Partners launch New England Nursing Clinical Faculty and Preceptor Academy Goal of new initiative is to 'build capacity' for nurse preceptors to address nursing shortage. Learn more about the initiative.
---
Named to Forbes' list of Best Employers
in Massachusetts.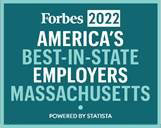 Named a U.S. News & World Report
"2022 BEST MEDICAL GRAD SCHOOL"
for Primary Care and Research