Explore the Possibilities
and Advance with Us.
SEARCH CAREER OPPORTUNITIES
Administrative Coordinator- Temporary
Job Number
: 2023-43146
Category:
Administrative Support
Location
: Shrewsbury, MA
Shift:
Day
Exempt/Non-Exempt:
Day
Business Unit:
UMass Chan Medical School
Department:
School - HR-Temprite Services - W860030
Job Type:
Temporary
Union Code:
Non Union Position-W00-Non Benefited
Num. Openings
: 2
Post Date
: May 25, 2023
Temprite Services is a division within the University of Massachusetts Medical School, Human Resources, which offers various levels of temporary support for departments within the institution as well as our affiliates.
 Monday - Friday 40 hrs per week temporary assignment. 
MAJOR RESPONSIBILITIES:
Coordinates and performs complex and varied administrative tasks related to medical information, records, and disability supplements requiring independent action and the setting of priorities and procedures.
Manages the receipt of electronic medical records through use of an UMass secure file transfer protocol (SFTP) site, and ensures distribution of the information to the appropriate DES staff.
Performs scanning functions on incoming records and correspondence for all DES programs.
Maintain accuracy of all information in cases comparing information in client databases (MA21 or other sources), with the information in multiple DES databases.
Responsible for opening, sorting, receiving, and date stamping all correspondence received at DES.  Date stamps all written and faxed correspondence and other materials including medical records.
Performs data entry for specific client information into State database (MA21 or other) and DES databases during the intake process, such as received date, mail date, notes to household, progress notes, and other related information; delivers mail and medical information, files medical information  in medical records, files all other correspondence within DES program guidelines.    
Compiles data onto spreadsheets regarding mail and file workload and activity and reports information to supervisor on both a recurring and ad hoc basis.
Coordinates and performs confidential and varied administrative tasks requiring independent action and the setting of priorities and procedures. Maintains confidentiality in all aspects on correspondence handling.
Prepares correspondence, memoranda, and correspondence letters to various state agencies (MRC and others), advocates, attorneys, and clients that are requesting medical records.
Expedites the request for medical records at offsite archiving vendor and in the DES file room. Monitors and tracks all medical releases in a data base.
Works in a team environment to assist with large mailing projects including copying, collating, envelope stuffing, retrieval of electronic files, scanning, and indexing.
Maintains organization in the DES business center including prioritizing routine and project photocopying requests and keeps business photocopiers and fax machines equipped with paper, toner, and report repairs.
Assists in special projects with medical records management. Works in a team environment to assist in the Operations Department with varied duties.
Organizes information into spreadsheet format for data collection. Enters all requests for medical records electronically into the DES computer system.
Provides administrative supports for the DES reception area by answering phones, providing information, responding to questions, and directing calls, and/or visitors as needed.
REQUIRED QUALIFICATIONS:
Associates degree in business, a related field, or equivalent experience
2 years of relevant office experience
Demonstrated knowledge of medical terminology or willingness to take a course in Medical Terminology.
Knowledge of Microsoft Office products, Word, Excel, PowerPoint, and Outlook.
Requires organizational and excellent interpersonal skills, oral and written communications skills necessary to interact with all levels of personnel.
Check Out Our Advancing Careers
HR Blog
Each year UMass Chan Medical School comes together to demonstrate care and compassion. Learn more about the UMass Chan Cares campaign.
---
UMass Chan and Partners launch New England Nursing Clinical Faculty and Preceptor Academy Goal of new initiative is to 'build capacity' for nurse preceptors to address nursing shortage. Learn more about the initiative.
---
Named to Forbes' list of Best Employers
in Massachusetts.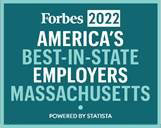 Named a U.S. News & World Report
"2022 BEST MEDICAL GRAD SCHOOL"
for Primary Care and Research