Explore the Possibilities
and Advance with Us.
SEARCH CAREER OPPORTUNITIES
Audit Manager - Fraud Waste and Abuse - REMOTE
Job Number
: 2023-42747
Category:
Management
Location
: Charlestown, MA
Shift:
Day
Exempt/Non-Exempt:
Day
Business Unit:
ForHealth Consulting
Department:
ForHealth Consulting - Health Care Finance Solutions - Financial Compliance - W407618
Job Type:
Full-Time
Salary Grade:
47
Num. Openings
: 1
Post Date
: June 14, 2023
GENERAL SUMMARY OF POSITION: 
Under the general direction of the Associate Director, the Audit Manager is responsible for managing the audit units day to day activities regarding the identification of provider Fraud, Waste and Abuse (FWA) within the Medicaid program. The incumbent will oversee Program Auditors to ensure that internal management and external client expectations are met or exceeded within budget parameters. This position supports the Associate Director in their leadership of the functional area of business including hiring, training and the development of staff, and is responsible for the efficient and timely completion of all audit activities. The individual will provide daily supervision to staff, provide oversight of audit activities and ensure that the work product is accurate.  In addition, the Audit Manager will be responsible for the development of audit tools based on regulations and the scope of specific audits.
MAJOR RESPONSIBILITIES:
Manage day to day operations of the unit including but not limited to reviewing medical records and validating audit reports.
Manage and implement programs, policies, and procedures to ensure compliance with Federal and state health care compliance programs; fraud and abuse laws and HIPAA regulations.
Develop positive and proactive approach to health care compliance to ensure client satisfaction. 
Compile and analyze reports for the selection of audits.
Responsible for hiring, training, developing, and evaluating all assigned Auditors within the unit.
Assist in the development and execution of training programs to ensure adherence to established policies and procedures
Demonstrate a strong capability of leading multiple projects at once
Develop and update audit unit policies, checklist, and other process documents as needed
Coordinate audit follow-up and audit activity of the unit
Evaluate all activities performed by staff to meet compliance guidance with state and federal requirements
Develop audit tools based on identified audit scope.
Perform quality assurance on all audits assigned to ensure compliance with applicable regulations and accuracy of information contained.
Oversee audit entrance and exit conferences with providers as needed
Conduct independent data analysis utilizing claims data to identify FWA i.e new algorithms or audits.
Oversee auditors in the development of reports of investigative findings as needed for final review and discussion with the client.
Communicate with providers regarding issues such as general regulatory compliance, audit findings, and the recovery process.
Update management regularly on progression of audits.
Make recommendations for further initiatives for new business.
Establish and/or implement performance improvement initiatives.
Perform other job related duties and/or manage special assignments as needed.
REQUIRED QUALIFICATIONS:
Bachelors degree in business administration, healthcare, or related field; or equivalent relevant experience.
7-10 years of related health care claims auditing experience in a complex healthcare environment, with at least 1 year of lead auditor experience.
Experience in conducting data mining in the healthcare insurance industry, medical record auditing and claims review experience.
In-depth knowledge of State and federal law, polices, rules and procedures, regulations and requirements regarding the assigned areas' core function.
Strong planning, analysis and problem-solving skills involving a high degree of originality and independent judgment, including the ability to identify program risks and critical issues and prepare recommendations for meeting established goals and possess a track record of producing high quality work that demonstrates attention to detail
Ability to effectively organize and prioritize in a multi-task, multi-priority environment, balance competing demands and advance assigned projects from inception to completion. This includes the ability to make decisions independently.
Strong analytical skills involving the processing, analysis, interpretation and presentation of data. Ability to communicate effectively using written and verbal communication.
Proficient with all Microsoft Office products, with at least an intermediate level of proficiency in Excel.
Ability to function effectively under pressure.
Ability to travel to off-site locations on occasion.
PREFERRED QUALIFICATIONS:
Masters Degree in Business Administration or Public Health, or other related field.
Knowledge of coding, reimbursement and claims processing policies.
Check Out Our Advancing Careers
HR Blog
Each year UMass Chan Medical School comes together to demonstrate care and compassion. Learn more about the UMass Chan Cares campaign.
---
UMass Chan and Partners launch New England Nursing Clinical Faculty and Preceptor Academy Goal of new initiative is to 'build capacity' for nurse preceptors to address nursing shortage. Learn more about the initiative.
---
Named to Forbes' list of Best Employers
in Massachusetts.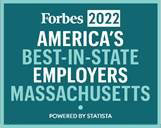 Named a U.S. News & World Report
"2022 BEST MEDICAL GRAD SCHOOL"
for Primary Care and Research