Explore the Possibilities
and Advance with Us.
SEARCH CAREER OPPORTUNITIES
Admissions Office Intern - EPSIP
Job Number
: 2023-42839
Category:
Interns
Location
: Worcester, MA
Shift:
Day
Exempt/Non-Exempt:
Non Exempt
Business Unit:
UMass Chan Medical School
Department:
School - Admissions - W411000
Job Type:
Intern (Full Time)
Union Code:
Non Union Position-W00-Non Benefited
Num. Openings
: 1
Post Date
: March 7, 2023
**IMPORTANT: Your application will not be considered without an essay**
Complete the online application and include a short essay either in the "resume" field (the resume and essay should be uploaded as one document) or uploaded as a cover letter on your profile. Essay topic is listed below (Please include within your essay, examples from personal experience, observation, research, and or scholarship. The essay should be succinct and be your original work. It should also reflect an excellent command of English grammar, style and syntax. Maximum length 200 words.): 
Please write a short essay on ONE of these three topics:
What does it mean to you to be effective in an environment that values diversity, equity and inclusion?
In what ways has diversity, equity and inclusion shown up in your commitment to service at the national, regional, local, and/or institutional levels?
In what ways have you integrated diversity, equity and inclusion as part of your professional and personal development? And how have these engagements informed your approach to being a better scholar and professional?
This internship program will begin Monday June 5th and will end Friday, August 11th. The pay is $16/hour and the position is expected to be full-time over those 10 weeks. This will be a hybrid internship. 


About Emerging Professionals Summer Internship Program (EPSIP) at UMass Chan Medical School 
The Emerging Professionals Summer Internship Program (EPSIP) is a paid internship experience for talented college students.  Individuals historically underrepresented in STEM, health science and medicine are strongly encouraged to apply. Priority will be given to students that identify from one of the following underrepresented groups in STEM, health science and medicine:  Black/African Americans, Hispanic or Latinx, American Indian or Alaska Native, Native Hawaiian, and other Pacific Islanders, individuals with a disability or the first in their family to attend college, are also strongly encourage to apply. 
Participants in the EPSIP program benefit from: 
a 10 week, paid summer business internship at UMMS with an administrative focus 
a unique opportunity to be guided and mentored for the world of business in academic medicine 
professional development series of lectures, networking, mentoring, resume and job search preparation, and more 
an opportunity to discover their passions and interests and discern which career path is best for you 
General Summary of Position 
Under general supervision of the Director of designee, the Admissions Intern performs a variety of duties in support of the Office of Admissions. The Admissions Intern will be responsible for supporting summer programs, admissions processes, and support of admissions staff. The intern will be exposed to opportunities in higher education that support diversity initiatives, recruitment of prospective applicants, and support students. 
MAJOR RESPONSIBILITIES: 
Assists in logistics coordination for summer programs (e.g. Summer Enrichment Program, BaccMD Summer Clinical Immersion Experience, Scribe Fellowship Program) 
Dispenses pertinent information and direction to students, staff, and visitors 
Establishes, maintains, and ensures proper use of confidential files, which may include student records 
Performs a wide variety of work, including scheduling, database management, word processing, proofreading, filing, recording information, administering tests, and updating website 
Compiles, develops, and designs reports, handbooks, newsletters, and special projects from a variety of sources 
Assists with participant and programs evaluations 
REQUIRED QUALIFICATIONS: 
Candidates pursuing bachelors degree or recent graduates 
Related experience preferred 
Must be reliable and able to set consistent work hours 
Ability to use standard office tools and software (MS-Office) 
PREFERRED QUALIFICATIONS:  
Perform a variety of administrative work involving use of independent judgment, accuracy, speed, and confidentiality 
Proficiently operate and maintain office equipment 
Perform work without continuous supervision and coordinate the work of others 
Maintain a professional demeanor at all times 
Ability to work in a team and meet performance deadlines in a dynamic environment 
Excellent oral and written communication skills 
Strong interpersonal skills required to interact with all organizational levels; demonstrated ability to work appropriately with confidential information 
Demonstrates the ability to utilizes independent judgment, assess priorities, and operate in a flexible manner in order to meet the dynamic needs of the department 
Demonstrates excellent organizational, analytical and time management skills 
Demonstrates proficiency with software applications including, but not limited to: Microsoft Word, PowerPoint, Excel, Access, Project and Visio 
  
Check Out Our Advancing Careers
HR Blog
Each year UMass Chan Medical School comes together to demonstrate care and compassion. Learn more about the UMass Chan Cares campaign.
---
UMass Chan and Partners launch New England Nursing Clinical Faculty and Preceptor Academy Goal of new initiative is to 'build capacity' for nurse preceptors to address nursing shortage. Learn more about the initiative.
---
Named to Forbes' list of Best Employers
in Massachusetts.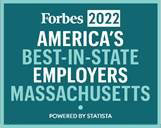 Named a U.S. News & World Report
"2022 BEST MEDICAL GRAD SCHOOL"
for Primary Care and Research