Explore the Possibilities
and Advance with Us.
SEARCH CAREER OPPORTUNITIES
Lab Clinical Coordinator III - Ophthalmology
Job Number
: 2023-42563
Category:
Research
Location
: Worcester, MA
Shift:
Day
Exempt/Non-Exempt:
Exempt
Business Unit:
UMass Chan Medical School
Department:
School - Ophthalmology - W822000
Job Type:
Full-Time
Salary Grade:
43
Union Code:
Non Union Position -W60- Non Unit Professional
Num. Openings
: 1
Post Date
: Sept. 8, 2023
POSITION SUMMARY: 
Under the direction of the Principal Investigator or designee, the Lab Clinical Coordinator III is responsible for specified lab, blood biobank, and clinical research activities.
ESSENTIAL FUNCTIONS:
Responsible for overall operations of the lab
Maintain freezers, LN2 tanks, and order supplies
Responsible for the oversight and organization of the blood and tissue biobank/repository
Audit, document samples and tissues in a computerized database
Design methods for efficient operations of the lab and update Manuals of Procedures
Maintain computerized data files and spreadsheets
Perform centrifuging and aliquoting of blood specimens and other processing as needed
Locate and pull samples for specified studies
Available for calls and travel to site off hours as needed if freezer alarms are activated
Adhere to established lab and biosafety policies
Document all procedures and communication with outside vendors
Data entry of study data forms, questionnaires, and other clinical research materials in the computerized study databases
Conduct in-person or telephone interviews and arrange study lab procedures for the studies
Prepare summary reports
Perform other duties related to the studies as required
REQUIRED QUALIFICATIONS:
Minimum of a bachelors degree in the sciences, health care, or equivalent experience
Masters degree in medical, biology, genetics, or equivalent field preferred
3+ years of related research/lab/blood biobank/biorepository experience
Must have excellent computer skills including high-level performance in Excel spreadsheets
Excellent oral and written communication skills
Excellent organizational, analytical, and interpersonal skills required
Good team player
Must be detail oriented, accurate and highly organized
Will travel locally to near-by clinic and other local sites as needed
May be responsible for functional supervision of assigned staff.
Check Out Our Advancing Careers
HR Blog
Each year UMass Chan Medical School comes together to demonstrate care and compassion. Learn more about the UMass Chan Cares campaign.
---
UMass Chan and Partners launch New England Nursing Clinical Faculty and Preceptor Academy Goal of new initiative is to 'build capacity' for nurse preceptors to address nursing shortage. Learn more about the initiative.
---
Named to Forbes' list of Best Employers
in Massachusetts.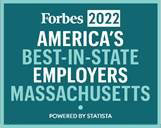 Named a U.S. News & World Report
"2022 BEST MEDICAL GRAD SCHOOL"
for Primary Care and Research