Explore the Possibilities
and Advance with Us.
SEARCH CAREER OPPORTUNITIES
Implementation Specialist
Job Number
: 2022-42170
Category:
Other
Location
: Shrewsbury, MA
Shift:
Day
Exempt/Non-Exempt:
Exempt
Business Unit:
UMass Chan Medical School
Department:
School - Psychiatry-SPARC - W833014
Job Type:
Full-Time
Salary Grade:
46
Union Code:
Non Union Position -W60- Non Unit Professional
Num. Openings
: 1
Post Date
: April 4, 2023
POSITION SUMMARY: 
Under the general direction of the Principal Investigator or designee, the Implementation Specialist works closely with leadership in state agencies and their partners, as well as other state agencies and UMass Chan partnering faculty, to align resources and functions and develop an infrastructure to support implementation efforts and program improvement for improving client outcomes. The Specialist is a leadership role that will direct our Implementation Science Practice Program following the guidance of the Faculty Program Co-Chairs at iSPARC. The Implementation Specialist is responsible for the implementation of projects, promoting change in state service systems and other partner programs, and identification and marketing of faculty trainings and technical assistance programs to key stakeholders (e.g., mental health provider agencies).
ESSENTIAL FUNCTIONS:
Direct the program that provides leadership in the application of established implementation science methods for implementing evidence-based practices into human service agencies.
Manage a team of iSPARC Technical Assistance Program staff and a team of consultants tasked with preparing scientific information for technical assistance.
Conduct needs assessment processes for data-based decision-making and planning for each initiative.
Support the training of agency staff to lead and facilitate needs assessment processes.
Receive on-going training and guidance on knowledge, skills, and abilities related to the science and practice of implementation frameworks.
Support the development and ongoing functioning of implementation teams at different levels of state or agency systems.
Develop and deliver trainings to relevant personnel.
Convene, organize, and facilitate participating partners in meetings, to implement programs, monitor program progress and monitor fidelity.
Support growth of external revenue capacity and technical assistance planning for multiple training and technical assistance programs.
Other duties and responsibilities as assigned to support implementation efforts.
REQUIRED QUALIFICATIONS:
Masters degree or higher in Public Health, the Social Sciences (e.g., Psychology), Education or a related field.
10+ post degree years experience working across large public systems and managing large projects.
Have engaged in work requires being outgoing, motivational, cooperative, and collaborative with multiple sectors.
Ability to provide leadership, guidance, and instruction to others with varying degrees of backgrounds and levels of knowledge and expertise.
Organizing and managing time, including the ability to handle multiple tasks and priorities of competing interest.
Project management, development, and implementation through demonstrated work experience.
Excellent problem-solving.
Computer proficiency: ability to use email, spreadsheets, and other applications.
Excellent interpersonal and verbal/written communication skills
The position sits within the Implementation Science & Practice Advances Research Center (iSPARC) in the Department of Psychiatry at UMass Chan Medical School. iSPARCs mission is to conduct, disseminate, and support the use of research in the public mental health system to enhance services for people with behavioral health conditions that promote their recovery and improve their quality of life. Our work informs, advises, and involves individuals with lived mental health experience, their families, providers, administrators, and policymakers navigating the behavioral health landscape in the Commonwealth and beyond.
Learn more about iSPARC here: iSPARC | Implementation Science and Practice Advances Research Center (umassmed.edu)
Diversity, equity, and inclusion are foundational values that enable UMass Chan Medical School to execute on its mission to advance the health and wellness of our diverse communities throughout Massachusetts and across the world by leading and innovating in education, research, health care delivery and public service. UMass Chan recognizes that its learning and working environments are enriched by the diversity of its learners, faculty, and staff, as well as members of the communities it serves. Moreover, UMass Chan is dedicated to advancing equity in all aspects of its work; to promoting inclusion of social groups historically underrepresented in and excluded from medicine and biomedical research; and to developing a culturally competent, interprofessional, and humanistic healthcare workforce.
Check Out Our Advancing Careers
HR Blog
Each year UMass Chan Medical School comes together to demonstrate care and compassion. Learn more about the UMass Chan Cares campaign.
---
UMass Chan and Partners launch New England Nursing Clinical Faculty and Preceptor Academy Goal of new initiative is to 'build capacity' for nurse preceptors to address nursing shortage. Learn more about the initiative.
---
Named to Forbes' list of Best Employers
in Massachusetts.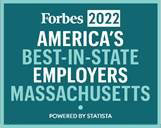 Named a U.S. News & World Report
"2022 BEST MEDICAL GRAD SCHOOL"
for Primary Care and Research