Explore the Possibilities
and Advance with Us.
SEARCH CAREER OPPORTUNITIES
Architectural Senior Project Manager
Job Number
: 2022-41923
Category:
Maintenance and Facilities
Location
: Worcester, MA
Shift:
Day
Exempt/Non-Exempt:
Exempt
Business Unit:
UMass Chan Medical School
Department:
School - Facility Plan, Eng & Const. - W842030
Job Type:
Full-Time
Salary Grade:
48
Num. Openings
: 1
Post Date
: Sept. 21, 2023
GENERAL SUMMARY OF POSITION:    
Under the general direction of the Senior Director or designee, the Senior Architectural Project Manager is responsible for the management and general supervision of the Architectural Project Management Group and the architectural design of infrastructure and capital projects at the University of Massachusetts Chan Medical School Campus and/or Off-site Facilities.
MAJOR RESPONSIBILITIES:
Lead the Architectural Project Management Group consisting of architectural project managers/designers in providing planning, design, contracting and construction management. Assign workload, monitor performance, and provide employee performance reports. Direct, assist and provide technical supervision to facilities engineering staff
Provide coordination with Department of Public Safety and local City Building Inspectors. Coordinate with the Massachusetts Department of Capital Asset Management on all building and infrastructure initiatives, contracts and projects. Work closely with the Designer Selection Committee to select and contract with architect-engineer firms providing design services
Oversee architectural design projects including construction management, contracting, contractor selection, inspection, acceptance, change order management and contract close out
Responsible for overseeing engineering, design, and construction of Medical Center projects including the direct supervision of staff Engineers and the general direction of outside consultants
Oversee quality standards, code interpretations and other areas of professional responsibility
Responsible to act as the Project Designer for the Medical Center projects, as defined by MGL Chapter 7-38A ½, and to affix a Massachusetts Seal of Registration as required by the Massachusetts State Building Code
Responsible for overseeing capital improvement projects, review and approve studies, design plans, specifications, cost estimates, and schedules
Responsible for analyzing, confirming, and modifying project scope, budgets, and schedules
Responsible for the management and tracking of outside projects and facility operations pertaining to the Division of Capital Asset Management
Maximize staff output by coordinating available personnel with current workload
Supervise the development and maintenance of various databases, mechanical standards, and specifications
Synthesize interdependent elements, develop strategies, recommend alternatives, and implement action plans for routine and unanticipated Medical Center projects and studies
Set departmental goals and defines organizational structure; interview, select, orient, train, and provide overall supervision to assigned personnel; review and evaluate personnel performance
Develop, recommend, and implement departmental operating policies, systems, and procedures
Maintain effective working relationship with associates, department heads, administrators and the general public
Keep abreast of current trends and developments in the field, attend seminars and job conferences, read technical and trade journals, participate in activities of professional associations
Perform other duties as required.
REQUIRED QUALIFICATIONS:
Bachelor of Science degree in Architectural Engineering, or equivalent experience
Current registration as a Professional Engineer/Architect in the State of Massachusetts
15 years experience including 10 years experience in Architectural Design, and 5 years of experience in managing a staff of Architectural Project Engineers
Must possess interpersonal skills to effectively communicate, lead, and interact with all levels of Medical School personnel and outside contractors and consultants
Working knowledge of computers, CAD system, and engineering management software to effectively produce design, construction documents, specifications, and schedules
Must have the analytical ability required to manage mechanical Facilities projects from conceptualization through implementation, consistent with defined objects and approved budgets, but with discretion in determining the methods to be used
Working knowledge of building codes and environmental and safety regulations
Ability to travel to off-site locations.                                                      
Check Out Our Advancing Careers
HR Blog
Each year UMass Chan Medical School comes together to demonstrate care and compassion. Learn more about the UMass Chan Cares campaign.
---
UMass Chan and Partners launch New England Nursing Clinical Faculty and Preceptor Academy Goal of new initiative is to 'build capacity' for nurse preceptors to address nursing shortage. Learn more about the initiative.
---
Named to Forbes' list of Best Employers
in Massachusetts.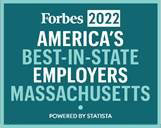 Named a U.S. News & World Report
"2022 BEST MEDICAL GRAD SCHOOL"
for Primary Care and Research