Explore the Possibilities
and Advance with Us.
SEARCH CAREER OPPORTUNITIES
Principal, Survey Research - Market Research (Remote)
Job Number
: 2022-41845
Category:
Research
Location
: Shrewsbury, MA
Shift:
Day
Exempt/Non-Exempt:
Exempt
Business Unit:
ForHealth Consulting
Department:
ForHealth Consulting - Office of Survey Research - W400717
Job Type:
Full-Time
Salary Grade:
49
Union Code:
Non Union Position -W60- Non Unit Professional
Num. Openings
: 1
Post Date
: Feb. 9, 2023
Under the supervision of the Executive Director, Office of Survey Research (OSR) for ForHealth Consulting, the Principal, Survey Research is responsible for designing, developing, and executing a range of survey research projects with a focus on healthcare and social programs and services. In addition to managing an existing portfolio of OSR projects, this position is also responsible for developing new business with potential clients, including state and federal government agencies, policy centers and foundations, and other non-profit and commercial health care organizations. The incumbent will provide survey methodological and analytic oversight to OSRs projects and be responsible for high quality client service, research, and deliverables.
Provide expert leadership on survey research projects, including oversight and direction across survey design, methodology, sampling, weighting, data analysis, and reports of survey findings.
Provide consultation to clients on survey research projects, lead client meetings, and make compelling presentations of survey results.
Work closely with project managers to ensure that clients are provided the highest standard of service and high-quality project deliverables.
Work closely with analysts to ensure that survey projects follow sound methodological approaches, including sampling, weighting, and data analysis.
Work with finance support staff to manage project budgets and ensure that projects meet/exceed financial targets.
Identify and pursue new business development opportunities in Massachusetts state agencies, other states, federal agencies, policy foundations and centers, and develop proposals and cost estimates for new projects.
Provide input for strategic business growth for OSR.
Manage existing and establish new trusted client relationships.
Collaborate with internal ForHealth Consulting business leads on projects that involve survey research, including identifying partnering opportunities for survey work.
Support professional development of assigned OSR staff in a supervisor role.
Perform other duties as required.
REQUIRED EDUCATION
Ph.D. or equivalent in quantitative survey methodology, public health, social science (e.g., sociology, psychology), statistics, or related field

REQUIRED WORK EXPERIENCE
5 years of relevant post-doctoral experience (or equivalent).
Demonstrated track record in survey research
Demonstrated subject matter expertise in one or more of the following areas: survey design, survey methodology, sampling statistics, statistical analysis of survey data, survey research in public health or related area
Demonstrated project and personnel management skills
Experience drafting proposals, scope of service, and budgets for research projects
Ability to facilitate meetings and establish productive, professional relationships with clients
Demonstrated ability to work independently and handle the demands of multiple, simultaneous survey research projects
Superb communication and presentation skills, both oral and written
Check Out Our Advancing Careers
HR Blog
Each year UMass Chan Medical School comes together to demonstrate care and compassion. Learn more about the UMass Chan Cares campaign.
---
UMass Chan and Partners launch New England Nursing Clinical Faculty and Preceptor Academy Goal of new initiative is to 'build capacity' for nurse preceptors to address nursing shortage. Learn more about the initiative.
---
Named to Forbes' list of Best Employers
in Massachusetts.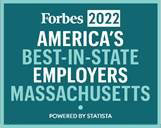 Named a U.S. News & World Report
"2022 BEST MEDICAL GRAD SCHOOL"
for Primary Care and Research