Explore the Possibilities
and Advance with Us.
SEARCH CAREER OPPORTUNITIES
Post Doctoral Associate
Job Number
: 2022-41891
Category:
Post Doc
Location
: Shrewsbury, MA
Shift:
Day
Exempt/Non-Exempt:
Exempt
Business Unit:
UMass Chan Medical School
Department:
School - Psychiatry-Lifeline for Families - W833024
Job Type:
Full-Time
Salary Grade:
86
Union Code:
Non Union Position-W63-Residents/Post Docs
Num. Openings
: 1
Post Date
: March 6, 2023
Post-Doctoral Fellowship in Maternal and Child Mental Health Jumpstart your professional career in maternal and child mental health and integrated behavioral health care with national innovators at the Lifeline for Families Center at the UMass Chan Medical School. This 2-year, research-focused post-doctoral fellowship provides training on integrating mental healthcare into maternal and child health care settings that have not traditionally provided mental health care. Fellows will work on projects that aim to build the capacity of maternal and child health care providers to address mental health and substance use disorders among pregnant and postpartum (perinatal) individuals and their children. Studies range from outpatient Ob/Gyn and pediatric settings to community settings and include developing, implementing and evaluating innovative approaches to increase access to care through capacity building.  Fellows will work on existing federally funded clinical and implementation studies and be involved with grant submissions. Fellows also have the opportunity to work on population-based statewide programs focused on building the capacity of the medical community to address perinatal mental health and substance use disorders in Massachusetts (Massachusetts Child Psychiatry Access Program (MCPAP) for Moms (www.mcpapformoms.org)) and other states through our National Network of Perinatal Psychiatry Access Programs.
This fellowship will be tailored to the career goals of the individual. Fellows can opt to work on a statewide system to increase access to evidence-based trauma services and medical and community supports for children impacted by trauma and adversity and, if interested, can develop training skills in trauma-informed care and trauma-responsive practices to be able to train other providers in various settings.  
Current active research includes NIH, CDC, PCORI, SAMHSA, foundation, and state funded projects. Our faculty are pioneers in the fields of psychiatry, psychology, obstetrics and gynecology (Ob/Gyn), and pediatrics, leading paradigm-shifting work focused on addressing parental and child mental health. Together, we have collective experience, expertise in parental and child mental health, and deep relationships with community partners, including medical societies and policymakers. In collaboration with these community partners, we support fellows in developing, implementing, and testing interventions that increase access to, and engagement in, evidence-based mental health care for families.  Our prior and ongoing projects focus on:
Building the capacity of nontraditional settings and developing practical approaches to address mental health as part of perinatal, infant, and child health care, no matter what door the family enters.
Creating feasible and scalable care delivery models, trainings, and tools for families to be supported by the professionals they present to, regardless of that professionals specific discipline.
Doing work that is scalable, replicable, evidence based, and already implemented nationwide.
Creating innovative solutions are driven by our research, the voices of community partners, and others research.
Clinical activities across a range of illnesses and settings enhance the fellows ability to integrate physiological and psychological information into health psychology treatment plans for pregnant and postpartum individuals and children, how to expand and augment integrated care. Supervisors and mentors are committed to evidence-based practice and provide supervision across a variety of empirically supported treatments, including Cognitive-Behavioral Therapy, Health Psychology, Motivational Interviewing, evidence-based trauma therapies (e.g., Trauma-Focused Cognitive-Behavioral Therapy), and mindfulness-oriented therapies. Fellows will primarily work with Nancy Byatt, DO, MS, MBA, DFAPA, FACLP, the Executive Director of Lifeline for Families. The fellow will also work with other Lifeline for Families faculty including Tiffany Moore Simas, MD, MPH, MEd, FACOG, Jessica Griffin, PsyD, Heather Forkey, MD,  Ed Tronick, PhD, Dorothy Richardson, PhD, and Martha Zimmermann, PhD. The fellow is encouraged and supported to obtain their license after their first year of training.
About UMass Medical School:
UMass Chan Medical School and its clinical partner, UMass Memorial Health, is a thriving academic health care system located in Worcester MA, about an hours drive west of Boston. The environment provides a highly supportive home for fellows, with opportunities to collaborate with leading researchers and engage in meaningful clinical work.
How to Apply:
A PhD or PsyD in clinical psychology or related field and completion of an APA-accredited internship with relevant experience is required. Applications will be accepted on an ongoing basis until the position is filled. Send a detailed letter of interest that specifies the fellowship of interest and summarizes relevant experiences and career goals, curriculum vitae, and three letters of reference to robyn.leonard@umassmed.edu or by mail to:
c/o Robyn Leonard:
Nancy Byatt, DO, MS, MBA, DFAPA, FACLP
Professor with Tenure, Departments of Psychiatry, Obstetrics and Gynecology, and Population and Quantitative Health Sciences
Executive Director, Lifeline for Families Center and Lifeline for Moms Program at the UMass Chan Medical School
Medical Director of Research and Evaluation, Massachusetts Child Psychiatry Access Program (MCPAP) for Moms
As an equal opportunity and affirmative action employer, UMMS recognizes the power of a diverse community and encourages applications from individuals with varied experiences, perspectives, and backgrounds.
See Additional Information
Check Out Our Advancing Careers
HR Blog
Each year UMass Chan Medical School comes together to demonstrate care and compassion. Learn more about the UMass Chan Cares campaign.
---
UMass Chan and Partners launch New England Nursing Clinical Faculty and Preceptor Academy Goal of new initiative is to 'build capacity' for nurse preceptors to address nursing shortage. Learn more about the initiative.
---
Named to Forbes' list of Best Employers
in Massachusetts.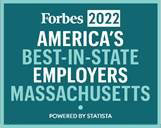 Named a U.S. News & World Report
"2022 BEST MEDICAL GRAD SCHOOL"
for Primary Care and Research