Explore the Possibilities
and Advance with Us.
SEARCH CAREER OPPORTUNITIES
Admissions Recruiter (Part-Time & Benefited)
Job Number
: 2022-41794
Category:
Administrative Professional
Location
: Worcester, MA
Shift:
Day
Exempt/Non-Exempt:
Exempt
Business Unit:
UMass Med School
Department:
School - Grad School of Nursing Admin - W419100
Job Type:
Part-Time
Salary Grade:
43
Union Code:
Non Union Position -W60- Non Unit Professional
Num. Openings
: 1
Post Date
: Nov. 4, 2022
POSITION SUMMARY: 
Recruitment is a fundamental component of all successful admissions offices that compliments marketing and admissions operations.  This critical role will provide focused, specialized recruitment for all Tan Chingfen Graduate School of Nursing programs. This position collaborates with leadership on an annual recruitment plan including travel and events, virtual and onsite communication, data reporting, and best practices to grow inquiries and applications.
This position is responsible for a variety of on and off-campus recruitment activities, including utilizing data to identify target populations; developing pipeline programs, coordinating on-campus events such as open houses, information sessions and admitted student events; hosting meetings with prospective students and their families and assisting students in navigating the admissions process.


The Recruitment & Pipeline Programs Coordinator will monitor, track and gauge effectiveness of recruitment efforts. Working as a collaborative team member to ensure a seamless student experience, while seeking to increase the number of Underrepresented in Nursing (URN) students. This role will be critical in developing expansion opportunities for continued program growth, such as the development of pipeline programs, hosting large-scale admissions events, establishing a campus tour program with admissions ambassadors and dedicating time to build relationships with prospective students and community partners.  This position would report to the Assistant Dean for Student Affairs & Enrollment Management within the Tan Chingfen Graduate School of Nursing.
ESSENTIAL FUNCTIONS:
Strategic planning and implementation of recruitment and enrollment activities for all School of Nursing programs
Assist in the creation, management and direction of the strategic planning and implementation of diversity recruitment and enrollment activities
Manage the development and maintenance of admissions recruitment plans with the purpose of attracting and enrolling a strong, diverse and qualified applicant pool
Responsible for coordinating information sessions, office hours, webinars, campus visits and other virtual on-campus recruitment events
Establish and maintain effective working relationships with faculty, staff and students
Represent the Tan Chingfen Graduate School of Nursing at scheduled recruitment events. Liaison with programs in scheduling and promoting specific degree programs. Some travel required
Assist in developing, implementing, and evaluating recruitment and outreach efforts for specific target audiences, including marketing materials and communication plans
Maintain knowledge of academic programs, student degree pathways, cost of attendance and other enrollment information to effectively assist prospective and new students
Prepare admissions materials for campus display and distribution to prospective students, pre-health advisors, etc…
Develop a campus tour program
Facilitate focus groups related to recruitment efforts and the admissions process
Travel to targeted recruitment events and conferences to turn prospects into applicants with a focus on recruiting applicants who are Underrepresented in Nursing
Develop pipeline programs and strategies for targeted programs
Inquiry/Application Management; Applicant/Prospective Student Communications
Provide high-touch customer service and proactive support to applicants offering timely assistance and encouragement as they navigate the application process and maintain records in Slate and NursingCAS
Serve as an initial point of contact for prospective students
Provide exceptional customer services and cultivation of applicants through the admissions process, with emphasis on identifying and recruiting underrepresented students
Provide follow-up communication to prospective and admitted students throughout the admissions funnel, from prospect to applicant; monitor prospective student lists
Data Reporting and Assessment
Monitor and track effectiveness of recruitment efforts to make informed decisions for future
recruitment efforts
Assist in preparing Admissions Office reports and statistics
Maintain transparent external communication efforts related to student demographics, success rates, attrition, etc…
Perform other related duties as necessary and incidental to the work described herein
REQUIRED QUALIFICATIONS:
Bachelor's degree in Education, Counseling, Psychology, Organizational Behavior, Sociology, Liberal Arts, or closely related field
At least two (2) years' experience in recruitment in college admissions or related enrollment service area, academic advisement; or an equivalent combination of education, training, and experience
Strong knowledge of the principles and practices of student recruitment and admissions
Strong presentation and customer service skills
Experience maintaining and utilizing data systems
Exceptional knowledge of Microsoft products, particularly Outlook, OneDrive & Excel
The ability to travel and work evenings and weekends for on-and off-campus events
Excellent verbal and written communication skills
Demonstrated success building relationships with students, faculty, applicants and campus partners
Must possess high energy, flexibility thriving in a high energy team-based environment
Experience working with and supporting culturally diverse populations
PREFERRED QUALIFICATIONS:
Slate Customer Relations Management Software experience; PeopleSoft Student Information System experience
Master's Degree in Higher Education
Held a prior role as an Admissions Counselor, Recruiter and/or in developing Pipeline Programs
Working knowledge and experience in planning admissions events and recruitment travel
Skill and sensitivity to issues of diversity, equity and inclusion as they affect the admissions process, and a demonstrated commitment to building a strong and diverse applicant pool and working environment
Relevant experience in admissions and/or student services; excellent project management and organizational skills; attention to detail, and the ability to work in a busy office
Check Out Our Advancing Careers
HR Blog
Each year UMass Chan Medical School comes together to demonstrate care and compassion. Learn more about the UMass Chan Cares campaign.
---
UMass Chan and Partners launch New England Nursing Clinical Faculty and Preceptor Academy Goal of new initiative is to 'build capacity' for nurse preceptors to address nursing shortage. Learn more about the initiative.
---
Named to Forbes' list of Best Employers
in Massachusetts.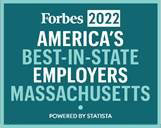 Named a U.S. News & World Report
"2022 BEST MEDICAL GRAD SCHOOL"
for Primary Care and Research