Explore the Possibilities
and Advance with Us.
SEARCH CAREER OPPORTUNITIES
Post Doctoral Associate - BRIDGE/CCTS
Job Number
: 2022-40706
Category:
Post Doc
Location
: Worcester, MA
Shift:
Day
Exempt/Non-Exempt:
Exempt
Business Unit:
UMass Med School
Department:
School - Center for Clinical Research - W826000
Job Type:
Full-Time
Salary Grade:
86
Union Code:
Non Union Position-W63-Residents/Post Docs
Num. Openings
: 2
Post Date
: June 10, 2022
Postdoctoral Fellow, UMass Center for Clinical and Translational Science (UMCCTS) and Bridge Innovation & Business Development (BIBD)
The goal of the UMCCTS is to accelerate the translation of basic discoveries into practical, cost effective solutions that improve human health and to develop and support the next generation of leaders in clinical and translational research.
The UMass Chan Bridge Innovation & Business Development department is responsible for developing and executing a comprehensive business strategy that promotes innovation, supports entrepreneurship, optimizes the institution's research portfolio, and leverages the wide array of expertise and capabilities that exist throughout our academic community.
We are seeking to hire a postdoctoral fellow to join our efforts in developing, managing, and translating the institution's research portfolio.  This is a full-time training position intended to prepare a scientist interested in moving into business development, intellectual property, preclinical therapeutic development, academic administration, policy, or similar career paths. The postdoctoral fellow will contribute to or be responsible for a range of projects within the UMCCTS related to our NIH Clinical and Translational Science Award (CTSA) grant.  The individual will report to the Executive Vice Chancellor for Innovation and Business Development and work closely with the staff of both offices.
Example responsibilities include:
Collecting, analyzing, and writing material related to the institution's research portfolio
Proposing and preparing visualizations of data
Meeting with faculty, trainees, and staff  to review research results for intellectual property filing or commercial development
Developing or updating resources for internal and external audiences, such as trainees, faculty, or career development professionals.
Contributing to development and implementation of existing and new curricula and training programs
Pre-clinical development project management
Other duties as is necessary
REQUIRED QUALIFICATIONS:
Doctoral or equivalent degree (currently held or expect to obtain shortly) in a scientific discipline
Demonstrated ability to create timelines, meet project deadlines, assess priorities, take initiative, and operate in a flexible manner in order to meet the dynamic needs of the group and projects
Demonstrated ability to interpret complex data and visually represent it clearly and effectively
Demonstrated analytical skills and independent judgment.
Ability to be discreet and handle confidential information
Excellent computer/technical skills
Ability to work within a team and independently
Innovation, flexibility, and creativity
Excellent oral and written communication skills, including professional correspondence
PREFERRED QUALIFICATIONS: 
Experience with the development of educational resources or curricula
Knowledge of biomedical research culture in academic and industry settings
Demonstrated ability to work with multidisciplinary groups
Demonstrated ability to manage a broad professional network across academic, public, and private sector entities
Experience using MS Office products (Word, Excel, PowerPoint, and Outlook), web development tools, and social media
This is a two-year position, with opportunity to renew pending performance and funding availability.
UMass Chan Medical School recognizes the power of a diverse community and encourages applications from individuals with varied experiences, perspectives and backgrounds. 
To apply, submit a cover letter and CV (or resume) as a single pdf directly to nathaniel.hafer@umassmed.edu .
See Additional Information
Check Out Our Advancing Careers
HR Blog
Each year UMass Chan Medical School comes together to demonstrate care and compassion. Learn more about the UMass Chan Cares campaign.
---
UMass Chan and Partners launch New England Nursing Clinical Faculty and Preceptor Academy Goal of new initiative is to 'build capacity' for nurse preceptors to address nursing shortage. Learn more about the initiative.
---
Named to Forbes' list of Best Employers
in Massachusetts.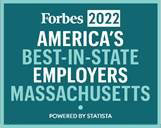 Named a U.S. News & World Report
"2022 BEST MEDICAL GRAD SCHOOL"
for Primary Care and Research