Explore the Possibilities
and Advance with Us.
SEARCH CAREER OPPORTUNITIES
Sr Manager, Immigration Services
Job Number
: 2022-40376
Category:
Administrative Professional
Location
: Shrewsbury, MA
Shift:
Day
Exempt/Non-Exempt:
Exempt
Business Unit:
UMass Med School
Department:
School - HR-HR-Immigration Services - W860016
Job Type:
Full-Time
Salary Grade:
47
Union Code:
Non Union Position -W60- Non Unit Professional
Num. Openings
: 1
Post Date
: April 22, 2022
POSITION SUMMARY: 
Reporting to the Director of Immigration Services, the Senior Manager, Immigration Services is a senior member of the Immigration Services Office and works to ensure best-in-class employment-based immigration practices. The role is responsible for maintaining compliance with US federal immigration regulations through overall case management, leadership, and stakeholder engagement. The Sr Manager must have considerable knowledge of immigration rules and regulations and understand the challenges related to scholars and employer engagement, which include immigration policy, employers' mindset, and scholars' expectations. The Sr Manager will help drive policy design and strategic projects to improve overall efficiency, compliance and excellent customer service.
ESSENTIAL FUNCTIONS:
Serve as a subject matter expert on immigration processes, policies, and protocols, including changes in federal regulations, guidance, and trends
Assists Director with reviewing and updating visa sponsorship policies in support of efficient, compliant, and strategic employment-based immigration practices
Serves in an official SEVIS capacity for the F-1 Visa Program and J-1 Exchange Visitor Program; remains current with SEVIS-related and regulatory updates and works to ensure associated federal compliance requirements
Supports end-to-end permanent resident case management process, including stakeholder advising, review of job descriptions, reviewing resumes submitted by candidates during PERM recruitment processes for sponsored Green Card applications, and signing certain immigrant petitions on behalf of University.
Manage key relationships with immigration attorneys and employees and ensures compliance with applicable company policies and governmental regulations through effective management of external delivery partners.
Oversee all immigrant and non-immigrant (O-1 visa, Conrad waivers) visa matters in partnership with external counsel
Provide strategic immigration-related expertise and guidance to HR Business Partners, Talent Acquisition, HR team members and business units.
Proactive partnership with HR Business Partners and employee supervisors on contingency planning for potential work authorization loss. Providing advice on alternative strategies for keeping employee's long term.
Assists Director with the annual budgeting process and is familiar with annual billing cycles processes.
Support continuous improvement of immigration programs, processes, and services
Design, present and promote educational programs in support of HR People Strategy and ongoing ISO stakeholder engagement efforts
Develop training tools and provide consistent mentorship to ISO Immigration Specialists on employment-based visa regulations and case processing.
REQUIRED QUALIFICATIONS:
Bachelor's Degree and 8+ years of professional experience with Immigration and Human Resources
Knowledge of employment-based U.S. immigration policies and regulations
3 years of experience or formal training as a SEVIS Designated School Official (P/DSO) and/or Responsible Officer (RO/ARO)
Ability to translate and communicate complicated immigration regulations to lay person understanding.
Strong attention to detail, written and oral communication skills
Forward thinking, solutions-oriented problem solver
Strong, independent action and interpersonal skills
Excellent public speaking and program design skills
Ability to work in the "gray"
Demonstrated excellence in customer service
Ability to build strong relationships with key stakeholders, including demonstrated vendor management skills
Exceptional organizational skills and ability to work well on a team
Articulated commitment to inter-cultural competency and the principles of diversity, inclusion, and equal access
Demonstrated ability to analyze business needs and recommend process changes, incorporating regulatory frameworks and data requirements
Familiarity and ability to work with systems such as sunapsis, PeopleSoft, SEVIS, Glacier and Tracker I-9
U.S. Citizenship or Permanent Resident status as required per federal regulations.
PREFERRED QUALIFICATIONS:
Master's degree preferred
Demonstrated experience with immigration in higher education environment
Membership and participation in NAFSA as evidence of continued training on updated law and policy
Check Out Our Advancing Careers
HR Blog
Named to Forbes' list of Best Employers
in Massachusetts.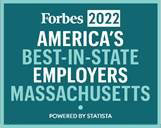 Named a U.S. News & World Report
"2022 BEST MEDICAL GRAD SCHOOL"
for Primary Care and Research