Explore the Possibilities
and Advance with Us.
SEARCH CAREER OPPORTUNITIES
Associate Director, Intellectual Property Management - currently Hybrid
Job Number
: 2022-40176
Category:
Management
Location
: Worcester, MA
Shift:
Day
Exempt/Non-Exempt:
Exempt
Business Unit:
UMass Med School
Department:
School - Business Development & Innovation - W400014
Job Type:
Full-Time
Salary Grade:
48
Union Code:
Non Union Position -W60- Non Unit Professional
Num. Openings
: 1
Post Date
: May 28, 2022
POSITION SUMMARY: 
BRIDGE Innovation & Business Development, at University of Massachusetts Medical School (UMass Chan) is recruiting for a Assistant/Associate Director – Intellectual Property Management (IPM).
What do we do? UMass Chan BRIDGE team ideates and executes a comprehensive business strategy to commercialize UMass Chan's IP portfolio through the development of NewCos, alliances, licensing agreements and partnerships. BRIDGE team is accountable for structuring, negotiating, and implementing a variety of transactions with external entities, including investors, leading as well as new pharma/biotech companies, incubators and other research organizations.
Success at BRIDGE & UMass Chan: BRIDGE @ UMass Chan reported licensing revenue of approximately $146 million during FY2018 and ranked fourth among all U.S. institutions and third among universities in terms of licensing revenue. BRIDGE and UMass Chan researchers have also co-founded multiple successful companies – Alnylam, Atalanta Therapeutics, ApicBio, Voyager Therapeutics, GenerationBio, Acworth & Bacainn to name a few.
UMass Chan is a research powerhouse: UMass Chan is a vibrant research enterprise that spends >$250M per year in research activities and consistently produces noteworthy advances in clinical and basic research. In 2006, the Nobel Prize in Physiology or Medicine was awarded to UMass Chan professor Craig C. Mello, PhD for discoveries related to RNA interference (RNAi). UMass Chan researchers have made pivotal advances in HIV, cancer, diabetes, infectious disease, and in understanding the molecular basis of disease. UMass Chan Programs and centers include the RNA Therapeutics Institute, the Gene Therapy Center, Program in Gene Function and Expression, Systems Biology and Neurotherapeutics.
The Role: The Associate Director – Intellectual Property Management will be a senior role in UMass Chan BRIDGE Innovation & Business Development team. This position will be strategic leadership team member reporting directly to Associate Vice Chancellor of BRIDGE Innovation & Business Development (AVC-IBD) @ UMass Chan and will help support the current programs at UMass Chan, contribute to global patent preparation & prosecution strategy, and help build and strengthen the company's intellectual property portfolio. In addition, this role will provide support to UMass Chan researchers and other functions in business teams as needed.
ESSENTIAL FUNCTIONS:
Accountable for overall management and maintenance of UMass Chan IP portfolio and collaborative agreements to help drive key actions and decisions required to build and defend a strong IP portfolio.
Mentor a team of IP professionals management toward increased effectiveness, productivity and personal growth.
Identify patentable inventions through regular interactions with New Ventures team, internal researchers and collaborators, including evaluating invention disclosures and conducting prior art searches.
Generate and implement patent protection strategies through management of outside patent counsel.
Primary liaison with licensees to coordinate and drive patent strategy.
Educate and advise colleagues on IP processes and issues. Guides inventors through the patenting process in conjunction with patent counsel.
Review legal invoices and manage expenditures related to the preparation, filing and prosecution of patent dockets.
Oversees maintenance of patents and management of annuity payments.
Maintain extensive knowledge of Bayh-Dole statutes and implementing regulations, monitors adherence to office policies and procedures around IP & agreement tracking
Manage office compliance with federal iEdison reporting system and regular reporting for the Office of Innovation & Business Development to UMass Chan, President's Office and Association of University Technology Managers (AUTM).
Manages internal database of invention records, intellectual property, agreements and grants
Represent UMass Chan scientific excellence through a deep understanding of the portfolio and ensures BRIDGE@UMass Chan is considered partner of choice.
Leads development of IT systems to streamline office workflow and increase productivity.
Projects and initiatives assigned by AVC-Transactions from time to time
REQUIRED QUALIFICATIONS:
A minimum of 3+ years work experience in managing IP related matters in the field of healthcare related technologies is required; this work experience can have been acquired through work directly in a biopharmaceutical company (whether large or small) or through work experience in academic licensing office or in legal firms managing intellectual property.
PhD in molecular biology, cell biology, or related discipline preferred; BS/MS with significant work experience in in healthcare related technology will also be considered.
Patent Agent or legal experience preferred.
Deep understanding of key drivers of value for intellectual property and knowledge of domestic/foreign patent prosecution process is required.
Knowledge of academic tech transfer agreements and license negotiations is preferred.
Working knowledge of the essential activities for key functional areas and understanding of drug development process is preferred.
Passion for healthcare innovation and team-work, self-motivation and ability to work independently must be demonstrated.
High tolerance for ambiguity and ability to influence processes (internally and externally) must be demonstrated.
Strong interpersonal, oral, and written communication skills, including specifically, the skills needed to manage difficult conversations and interactions as they arise
PREFERRED QUALIFICATIONS:
Degree in science, preferably with legal experience
#LI-BG1
Check Out Our Advancing Careers
HR Blog
Each year UMass Chan Medical School comes together to demonstrate care and compassion. Learn more about the UMass Chan Cares campaign.
---
UMass Chan and Partners launch New England Nursing Clinical Faculty and Preceptor Academy Goal of new initiative is to 'build capacity' for nurse preceptors to address nursing shortage. Learn more about the initiative.
---
Named to Forbes' list of Best Employers
in Massachusetts.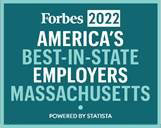 Named a U.S. News & World Report
"2022 BEST MEDICAL GRAD SCHOOL"
for Primary Care and Research