Explore the Possibilities
and Advance with Us.
SEARCH CAREER OPPORTUNITIES
Academic Administrator III
Job Number
: 2022-39976
Category:
Administrative Professional
Location
: Worcester, MA
Shift:
Day
Exempt/Non-Exempt:
Exempt
Business Unit:
UMass Chan Medical School
Department:
School - Biochemistry & Molecular Biotechnology- W404000
Job Type:
Full-Time
Salary Grade:
47
Num. Openings
: 1
Post Date
: April 18, 2022
GENERAL SUMMARY OF POSITION:
Under the general direction of the Department Chair or designee, the Academic Administrator III is responsible for planning and managing the administrative and business affairs of a large department whose functions include; education, research, and service.
Our Department of Biochemistry and Molecular Biotechnology at UMass Chan Medical School fosters an inclusive, collaborative environment where pioneering research illuminates the molecular mechanisms that govern basic biological processes, with an emphasis on integrative strategies at the interface with chemistry, math, engineering and physics.
This Academic Administrator III position, reports directly to the chair, Dr. Celia Schiffer, is responsible for planning and managing the administrative and business affairs of our large and growing department of ~20 laboratories, 4 research cores and approximately 125 scholars.  The scope of responsibilities spans all education, research and service endeavors.
You will find that we achieve our innovative science by enabling and empowering the next generation of biomedical researchers; and firmly believe that with a diverse and inclusive culture our science thrives permitting novel discoveries to be realized. This position is a critical component to our community and to the success of our Department.
MAJOR RESPONSIBILITIES:
Collaborate with the representatives of the School to define and prioritize departmental strategy and direction
Oversee teaching and research facility needs for the department as it relates to the research and teaching
Assist in determining space needs for the faculty and revenue (trust fund) operations relating to school activity
Advise the Chair or Senior Administrator on development and execution of organizational/staffing plans for faculty and non-faculty school merit
Advises faculty and school personnel on employee relations issues
Supervise personal action activity related to hiring, termination, increases contract and funding for school employees and employees funded from school accounts
Serve as advisor to faculty and division administrators for the pre and post award activity relating to grant management
Assist with the negotiations of research and trust fund contracts with outside organizations
Develop and manage the department's annual school budget reporting significant variances and trends, recommending corrective action, and providing forecasts
Review departments educational and research needs and recommends priorities based on availability of funds
Manage department funding sources by monitoring revenue and expenditure activity       
Adhere to University, State, and funding agency regulations
Responsible for the Department's indirect cost time and effort reporting
Advise faculty in charge of revenue generation research trust funds assuring viable operations, revenue billing, and compliance to University and Federal guidelines
Represent the department at administrative meetings within and outside of the Medical School
Serve on Institutional committees established to improve school operations and system implementations
Perform other duties as required.
REQUIRED QUALIFICATIONS:
Master's degree in Business, Finance, Management, Public Administration, or equivalent experience. 
5 years experience as an academic administrator, business office manager, or equivalent administrative position in higher education or a research institution, including 3 years of supervisory and fiscal management experience.
3 years of fiscal and NIH grant management (pre- and post-award) experience required. Preferably in research setting
Analytical ability as evidenced by independent development of solutions and recommendations in the areas of grant/contract management, healthcare and higher education accounting techniques, cost/benefit comparisons, analysis of budget variance and staff resources forecasts.
Excellent Communication skills both oral and written are essential
Working knowledge of personal computers, including spreadsheet and word processing software
Ability to lead diverse teams of people towards positive and shared outcomes
Ability to travel to off-site locations
#LI-BK1
Check Out Our Advancing Careers
HR Blog
Each year UMass Chan Medical School comes together to demonstrate care and compassion. Learn more about the UMass Chan Cares campaign.
---
UMass Chan and Partners launch New England Nursing Clinical Faculty and Preceptor Academy Goal of new initiative is to 'build capacity' for nurse preceptors to address nursing shortage. Learn more about the initiative.
---
Named to Forbes' list of Best Employers
in Massachusetts.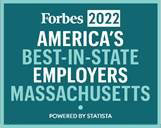 Named a U.S. News & World Report
"2022 BEST MEDICAL GRAD SCHOOL"
for Primary Care and Research