Explore the Possibilities
and Advance with Us.
SEARCH CAREER OPPORTUNITIES
Program Manager for Faculty Recruitment and Diversity Initiatives
Job Number
: 2022-39586
Category:
Administrative Professional
Location
: Worcester, MA
Shift:
Day
Exempt/Non-Exempt:
Exempt
Business Unit:
UMass Med School
Department:
School - Health Equity & Improvement - W400019
Job Type:
Full-Time
Salary Grade:
46
Union Code:
Non Union Position -W60- Non Unit Professional
Num. Openings
: 1
Post Date
: April 9, 2022
GENERAL SUMMARY OF POSITION: 
Under the general direction of the Vice Provost, or designee, the Program Manager – Health Equity oversees the application, implementation, progress, and evaluation of complex multi-year, multi-site projects/programs. The Program Manager coordinates and mobilizes staff, faculty, consultants and other resources at multi University, project site, and funding levels to assure timely and effective implementation of project work.
ESSENTIAL FUNCTIONS:
Lead the development of project plans and programs in conjunction with senior leadership
Convene and provide overall direction to project/program teams, which may consist of data staff, associates and coordinators, per diem staff, and faculty for the development of project work plans, literature reviews, data analysis plans, and reports; takes initiative and works with high level of independence
Prepares project/program budgets, and manages expenditures with the department administrator
Identify necessary resources for projects/programs, including organizing and coordinating resources from UMMS and other campuses of the University system; monitor work progress, including data analysis and reports, and oversee timely completion of the work
Hire, advise, directly supervise and evaluate the performance of other staff. Provide functional supervision of other specified project/program staff as needed
Write reports and papers describing project/program results in conjunction with the Vice Provost
Coordinate formal communications and meeting agendas
May act in a project management capacity and be responsible for managing day-to-day logistics and operational needs of the projects/programs, convening and providing overall to direction to project/program teams and identifying and addressing problems which may adversely affect project/program work. Summarize findings of data analysis and incorporate pertinent information into project/program presentations
Perform other duties as required
REQUIRED QUALIFICATIONS:
Master's degree or equivalent in Health Care Administration, Public Health, or a health policy related health care field
5 years' experience in developing, implementing and evaluating programs, including significant experience in project management, supervision of staff and fiscal responsibility, or equivalent
Exceptional data analysis with the ability to find trends and implications within data to inform sound business decisions.
Prior experience in diverse settings
Working knowledge of supervision and coordination of complex, multi-site projects/programs and environments
Excellent interpersonal skills and ability to effectively communicate with diverse leaders, faculty and staff
Communication and presentation skills, both oral and written, to interact with leadership, faculty and staff, and to produce reports suitable for an academic audience
Excellent organizational skills
#LI-BK1
Check Out Our Advancing Careers
HR Blog
Named to Forbes' list of Best Employers
in Massachusetts.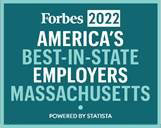 Named a U.S. News & World Report
"2022 BEST MEDICAL GRAD SCHOOL"
for Primary Care and Research