Explore the Possibilities
and Advance with Us.
SEARCH CAREER OPPORTUNITIES
Post Doctoral Associate
Job Number
: 2021-39277
Category:
Post Doc
Location
: Worcester, MA
Shift:
Day
Exempt/Non-Exempt:
Exempt
Business Unit:
UMass Med School
Department:
School - Molecular Cell & Cancer Biology - W495000
Job Type:
Full-Time
Salary Grade:
86
Union Code:
Non Union Position-W63-Residents/Post Docs
Num. Openings
: 1
Post Date
: Jan. 11, 2022
A post-doctoral position is available in the laboratory of Dr. Brian Lewis in the Department of Molecular, Cell and Cancer Biology at the University of Massachusetts Chan Medical School, located in Worcester MA. Applications are encouraged from doctoral level scientists interested in working in, and sustaining, a diverse and inclusive laboratory environment. Individuals from backgrounds underrepresented in the biomedical sciences, as defined by the National Institutes of Health, are strongly encouraged to apply.
Research in the Lewis lab is focused on understanding the molecular mechanisms underlying pancreatic tumor initiation, progression and response to therapy. Current projects are focused on dissecting the contribution of MTOR signaling pathways during pancreatic tumorigenesis and elucidating the impact of circadian disruption on pancreatic cancer development.
Candidates should be highly motivated, technically proficient in current molecular and cell biology techniques with evidence of productivity as documented by research publications. Previous experience in with genetically engineered mouse models and the use of genome wide approaches are a plus.
To apply, please send via email a letter summarizing current research activity, the reason for applying to the laboratory and a statement of research interests, curriculum vitae, and a list of three references to Dr. Brian Lewis at: Brian.Lewis@umassmed.edu.
As an equal opportunity and affirmative action employer, the UMass Chan Medical School recognizes the power of a diverse community and encourages applications from individuals with varied experiences, perspectives and backgrounds.
See Additional Information
Check Out Our Advancing Careers
HR Blog
Each year UMass Chan Medical School comes together to demonstrate care and compassion. Learn more about the UMass Chan Cares campaign.
---
UMass Chan and Partners launch New England Nursing Clinical Faculty and Preceptor Academy Goal of new initiative is to 'build capacity' for nurse preceptors to address nursing shortage. Learn more about the initiative.
---
Named to Forbes' list of Best Employers
in Massachusetts.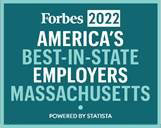 Named a U.S. News & World Report
"2022 BEST MEDICAL GRAD SCHOOL"
for Primary Care and Research