Explore the Possibilities
and Advance with Us.
SEARCH CAREER OPPORTUNITIES
Post Doctoral Associate
Job Number
: 2021-36640
Category:
Post Doc
Location
: Worcester, MA
Shift:
Day
Exempt/Non-Exempt:
Exempt
Business Unit:
UMass Chan Medical School
Department:
School - Biochemistry & Molecular Biotechnology- W404000
Job Type:
Full-Time
Salary Grade:
86
Union Code:
Non Union Position-W63-Residents/Post Docs
Num. Openings
: 1
Post Date
: March 21, 2021
An NIH-funded postdoctoral position is available in the Department of Biochemistry and Molecular Pharmacology at the University of Massachusetts Medical School in Worcester, MA.  
The Munson lab is elucidating the structure and function of regulators of intracellular membrane trafficking, including the exocyst complex, SNARE proteins and Sec1/Munc18 proteins. We are a multidisciplinary lab, using biochemical, structural, cell biological, microscopy and genetic studies in yeast, mammals and a variety of other eukaryotes with the goal of obtaining fundamental mechanistic understanding of the detailed regulation of exocytosis and endocytosis, and how dysfunction of this regulation impacts cellular biology and human disease.
Applicants must have (or expect to obtain shortly) a Ph.D. in Structural Biology, Biochemistry, Biophysics, or a related field. Previous hands-on experience with cryo-EM, protein biochemistry, purification, and analysis of protein-protein interactions is essential. In addition, experience with yeast genetics, protein crystallography, mass spectrometry, tissue culture, and/or fluorescence microscopy is preferred, but not required. The lab is highly collaborative, and strongly values and supports colleagues with diverse backgrounds and experiences. We are part of a dynamic structural biology and biochemistry community with outstanding resources, core facilities and training. For more information, see the lab website: https://www.umassmed.edu/munsonlab/


To be considered, please send CV, brief description of research interests and contact information of references to Dr. Mary Munson at mary.munson@umassmed.edu.
Check Out Our Advancing Careers
HR Blog
Each year UMass Chan Medical School comes together to demonstrate care and compassion. Learn more about the UMass Chan Cares campaign.
---
UMass Chan and Partners launch New England Nursing Clinical Faculty and Preceptor Academy Goal of new initiative is to 'build capacity' for nurse preceptors to address nursing shortage. Learn more about the initiative.
---
Named to Forbes' list of Best Employers
in Massachusetts.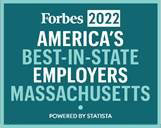 Named a U.S. News & World Report
"2022 BEST MEDICAL GRAD SCHOOL"
for Primary Care and Research