Explore the Possibilities
and Advance with Us.
SEARCH CAREER OPPORTUNITIES
Bioinformatician III
Job Number
: 2019-33871
Category:
Information Technology
Location
: Worcester, MA
Shift:
Day
Exempt/Non-Exempt:
Exempt
Business Unit:
UMass Chan Medical School
Department:
School - Gene Therapy Center - W405200
Job Type:
Full-Time
Salary Grade:
74
Num. Openings
: 1
Post Date
: July 21, 2020
GENERAL SUMMARY OF POSITION: 
Under the general direction of a member of the faculty or designee, the Bioinformatician III is responsible for developing novel algorithms and scientific software applications as well as providing bioinformatics data analysis support for research projects.
MAJOR RESPONSIBILITIES:
Design and implement reusable bioinformatics analysis pipelines for processing next-generation sequencing, microarray, genomics, proteomics and chemogenomics data
Integrate computational methods/pipelines with high performance computing clusters
Collaborate closely with PIs and their lab members on research projects including defining the scope of the collaboration, researching on the scientific topics and implementing the appropriate bioinformatics solutions that meet timelines
Participates in the oral presentation of all project findings and abstracts including participation in periodic project status meetings and presentation of final project deliverables.
Develop rapid prototypes and custom scripts for one-off type of analysis requests
Develop novel algorithms and integrated data visualization applications when existing software packages are not available or adequate
Properly document the procedures used in computational analysis and provide summary report of results suitable for inclusion in manuscript and grant applications
Local establishment and customization of genomic, proteomics databases and provide batch analysis utilities that make use of these resources
Develop custom databases and web portals for managing raw and processed experimental data
Provide bioinformatics training and workshops for analysis pipelines and in-house developed software applications
Coordinate and collaborate with other bioinformaticians, biostatisticians, information technology professionals, and interdepartmental project teams.
Perform other duties as required.
REQUIRED QUALIFICATIONS:
Master's degree in Computer Science, a related computational discipline, or equivalent experience
2 years bioinformatics-related research experience
Proven research record such as co-authorship on peer-reviewed publications required
Strong background in programming. Fluent in one programming language (Java or C/C++) and one scripting language (shell, Perl or Python)
Knowledge in biostatistics packages (R or Matlab) and SQL queries are strongly suggested
Strong communication skills, both the oral and written necessary to interact with a wide range of individuals
Check Out Our Advancing Careers
HR Blog
Each year UMass Chan Medical School comes together to demonstrate care and compassion. Learn more about the UMass Chan Cares campaign.
---
UMass Chan and Partners launch New England Nursing Clinical Faculty and Preceptor Academy Goal of new initiative is to 'build capacity' for nurse preceptors to address nursing shortage. Learn more about the initiative.
---
Named to Forbes' list of Best Employers
in Massachusetts.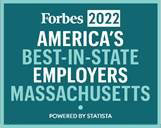 Named a U.S. News & World Report
"2022 BEST MEDICAL GRAD SCHOOL"
for Primary Care and Research