Explore the Possibilities
and Advance with Us.
SEARCH CAREER OPPORTUNITIES
Patient Instructor II - Standardized Patient Program
Job Number
: 2019-32482
Category:
Academic
Location
: Worcester, MA
Shift:
Rotation
Exempt/Non-Exempt:
Exempt
Business Unit:
UMass Chan Medical School
Department:
School - Educational Affairs - W410100
Job Type:
Perdiem
Salary Grade:
40
Union Code:
Non Union Position-W00-Non Benefited
Num. Openings
: 59
Post Date
: Feb. 23, 2022
Do you enjoy teaching? Are you into science? Can you act?
Did you know that lay people called "Standardized Patients" can learn to portray patients and coach medical learners at all levels?  Please join us to learn more about becoming a Standardized Patient: turn your interests into meaningful part-time work contributing to medical education across New England.
Simulate patients with medical conditions and/or communication challenges
Evaluate, score, and coach your learner, according to defined competencies
Earn while you learn: $18.00/hour – Earn on assignment: $20/hour
Take additional training to teach physical examinations – and more!
GENERAL SUMMARY OF POSITION:
Under the general direction of the Academic Director and Trainer, of the Standardized Patient Program will teach and evaluate medical students, residents and graduate nurses.
MAJOR RESPONSIBILITIES:
Simulate one or more medical problems.
Act as a patient for medical interviews and physical examinations.
Complete checklists on- examiner's history taking and physical diagnosis skills.
Provide corrective feedback to medical students and residents on their medical interviewing skills and physical examination techniques.
Demonstrate Standardized Patient skills at workshops for faculty.
Travel to various medical schools and residency programs to demonstrate, teach and evaluate their students and staff.
Assist in training of new Standardized Patient Instructors.
Standardized Patient Director evaluates job performance to maintain consistency in performance and reliability in scoring.
REQUIRED QUALIFICATIONS:
To have strong interpersonal skills and ability to communicate articulately with all levels of the Program.
Ability to commute to UMASS Medical School reliably.
Complete scheduled training and to acquire competency in the assigned material to the satisfaction of the Standardized Patient Coordinator.
Exhibit appropriate personal appearance, manner and hygiene when acting as a representative of the Standardized Patient Program.
To observe the criterion of confidentiality and conduct oneself in a professional manner.
Check Out Our Advancing Careers
HR Blog
Each year UMass Chan Medical School comes together to demonstrate care and compassion. Learn more about the UMass Chan Cares campaign.
---
UMass Chan and Partners launch New England Nursing Clinical Faculty and Preceptor Academy Goal of new initiative is to 'build capacity' for nurse preceptors to address nursing shortage. Learn more about the initiative.
---
Named to Forbes' list of Best Employers
in Massachusetts.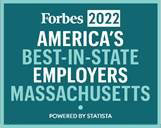 Named a U.S. News & World Report
"2022 BEST MEDICAL GRAD SCHOOL"
for Primary Care and Research