Explore the Possibilities
and Advance with Us.
SEARCH CAREER OPPORTUNITIES
Environmental Health and Safety Intern - EPSIP
Job Number
: 2017-28629
Category:
Interns
Location
: Worcester, MA
Shift:
Day
Exempt/Non-Exempt:
Non Exempt
Business Unit:
SCHOOL
Department:
School - Environmental Hlth & Safety - W800800
Job Type:
Intern (Full Time)
Salary Grade:
..
Union Code:
Non Union Position-W00-Non Benefited
Num. Openings
: 1
Post Date
: March 1, 2017
Overview:
NOTE:
Complete the online application that includes uploading a resume and include a short essay in the "resume" field (the resume and essay should be uploaded as one document). Please respond to the essay question below:
Please write a short essay demonstrating your diversity competencies through life experiences and state why you would like to enroll in the program

(Please include examples from personal experience, observation, research, and or scholarship. The essay should be succinct and be your original work. It should also reflect an excellent command of English grammar, style and syntax. Maximum length 200 words.)
 GENERAL SUMMARY OF POSITION: 
Under the supervision of the Environmental Health & Safety (EH&S) Manager or designee, the EH&S Intern is responsible for helping to implement and maintain environmental health and safety programs for the UMass Medical School (UMMS) and UMass Memorial Medical Center (UMMMC); and, to assist with keeping UMMS and UMMMC in compliance with applicable government and accreditation occupational and environmental safety standards, regulations, requirements and guidelines. 
Responsibilities:
MAJOR RESPONSIBILITIES:
Help with identifying potential risks and with recommending appropriate solutions
Perform data entry into EH&S Assist with reviewing and analyzing data for trends, deficiencies, quality control, and with seeking solutions to correct identified issues

Help maintain records and documentation, including training records, waste manifests, SDS, safety equipment certifications, and other regulatory compliance documents

Participate in the EH&S' Emergency Response Team

Maintain, test and calibrate equipment, inventory, and supplies used for compliance management, may include performing chemical fume hood testing, emergency shower and eye wash testing, and performing respiratory fit testing

Write technical safety reports, assessment reports, hazard surveillance reports, lab inspection reports, and incident review reports

Assist with reviewing and updating of policies, procedures, and safety manuals

Interact with members of the Hospital and School community

Perform other duties as required
Qualifications:
REQUIRED QUALIFICATIONS:
Candidates pursuing bachelor's degree or recent graduates

Related experience preferred

Must be reliable and able to set consistent work hours

Ability to use standard office tools and software (MS-Office)
PREFERRED QUALIFICATIONS: 
Pursuing degree in Safety, Environmental Sciences, Fire Safety, Chemistry, Biology, Environmental Health and Safety, Emergency Management, Radiation Safety, Health Physics, or related degree. 
Basic knowledge of federal and state regulations pertaining to selected disciplines within Health & Safety, such as; EPA, DOT, OSHA, NIH, CDC, NIOSH, MADPH, MADEP, MADPH, NRC, NFPA, FEMA, MEMA.

Some skill with Microsoft Office software and database applications

Must have a valid driver's license, and the ability to travel to off-site locations 

To be able to become certified as OSHA 40 hour Emergency Responder is required

Good oral and written communication skills
Check Out Our Advancing Careers
HR Blog
Each year UMass Chan Medical School comes together to demonstrate care and compassion. Learn more about the UMass Chan Cares campaign.
---
UMass Chan and Partners launch New England Nursing Clinical Faculty and Preceptor Academy Goal of new initiative is to 'build capacity' for nurse preceptors to address nursing shortage. Learn more about the initiative.
---
Named to Forbes' list of Best Employers
in Massachusetts.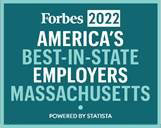 Named a U.S. News & World Report
"2022 BEST MEDICAL GRAD SCHOOL"
for Primary Care and Research