Explore the Possibilities
and Advance with Us.
SEARCH CAREER OPPORTUNITIES
Laboratory Staff Scientist
Job Number
: 2017-28397
Category:
Biotechnology
Location
: Worcester, MA
Shift:
Day
Exempt/Non-Exempt:
Exempt
Business Unit:
ForHealth Consulting
Department:
Commonwealth Medicine - NE Newborn Screening - W416900
Job Type:
Full-Time
Salary Grade:
46
Union Code:
..
Num. Openings
: 1
Post Date
: Jan. 13, 2017
Overview:
GENERAL SUMMARY OF POSITION: 
Newborn Screening is moving to Worcester in March of 2017! Multiple positions available at our new, spacious, state of the art lab facility!
Under the general direction of a Senior Staff Scientist, the Laboratory Staff Scientist in the molecular laboratory section of the program is responsible for the day-to-day technical and administrative activities related to the development and implementation of emerging sequencing technologies in the molecular laboratory of the newborn screening program.  The molecular Laboratory Staff Scientist will research and recommend technologies, design evaluations, initiate and execute all preclinical scientific research and/or development strategies for emerging technologies.  The molecular Laboratory Staff Scientist also leads the team to the successful execution of projects approved by the Senior Scientist for the achievement of departmental goals; investigates the feasibility of applying a wide variety of scientific principles and concepts to potential inventions, products and problems.   The molecular Laboratory Staff Scientist works collaboratively with the Clinical Data Scientist and Laboratory Supervisor; may act as the molecular Laboratory Supervisor on an as-needed basis and participates as needed as a team member in the performance of routine daily laboratory screening assays to fulfill program's needs for timely testing for the detection of newborn disorders. 
Responsibilities:
MAJOR RESPONSIBILITIES:
Program Development
Researches and leads the technical development, validation, implementation and troubleshooting of emerging technologies to be used in newborn screening procedures.
Designs, documents, and implements the quality control and improvement approach for new methodologies
Develops and implements standard operating procedures for methodologies that are currently under development.
Instructs other laboratory analysts in test methodologies and techniques.
Advises laboratory staff on equipment and laboratory configuration
Serves as a key resource to the configuration, validation, troubleshooting and monitoring of instrumentation interfaces with the Laboratory Information Management System.
Summarizes and analyzes test data for use in studies and in manuscript writing.
Reviews literature on emerging technologies and conditions relevant to newborn screening and informs Sr. Scientist of any necessary changes to existing process and policies.
Works independently to provide initial draft of manuscripts describing technical developments from the laboratory.
Prepares presentations, reports, and other forms of communication to disseminate knowledge gained from laboratory efforts.
Program Production
Performs laboratory assays (clinical or research) with appropriate documentation, as an integral member of the section's laboratory analysts, following validated protocols.
Follows established protocols to support the Program's quality, safety, and privacy efforts.
Performs other related duties as assigned.
Qualifications:
REQUIRED QUALIFICATIONS:
Master's degree in chemical, life or clinical sciences; or equivalent.
7years' relevant experience,
Must satisfy CLIA requirements for high complexity testing
Experienced in the knowledge, performance, and interpretation of lab tests and techniques
Proficient in computer file management and general software usage.
Communications and writing skills for scientific reports, oral presentations, SOPs, internal communications.
Ability to be flexible in work schedule as required by laboratory section.
PREFERRED QUALIFICATIONS:
PhD in life sciences with expertise in clinical sequencing and analyses.
Practical knowledge of human biochemical or endocrine pathways, or genetics.
A thorough understanding of regulatory issues (e.g. CLIA, OSHA) as they apply to clinical laboratory testing.
Expertise in high-throughput biochemical or molecular analytical techniques and robotics/liquid handling.
Experience with data analyses, experimental design, biostatistics, bioinformatics.
Previous supervisory experience.
Additional Information:
Check Out Our Advancing Careers
HR Blog
Each year UMass Chan Medical School comes together to demonstrate care and compassion. Learn more about the UMass Chan Cares campaign.
---
UMass Chan and Partners launch New England Nursing Clinical Faculty and Preceptor Academy Goal of new initiative is to 'build capacity' for nurse preceptors to address nursing shortage. Learn more about the initiative.
---
Named to Forbes' list of Best Employers
in Massachusetts.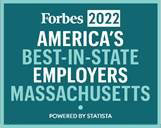 Named a U.S. News & World Report
"2022 BEST MEDICAL GRAD SCHOOL"
for Primary Care and Research